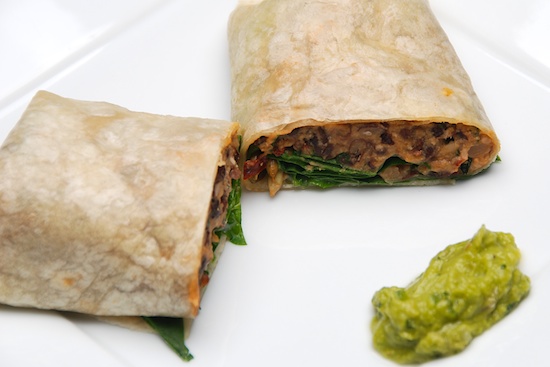 Once again, this is a case of the picture not doing the dish justice. Sometimes that happens when something is so good that we eat almost all of it, then I scream, "Don't eat the last one… we have to photograph it for the blog." Unfortunately you can't see the bright red of the beautiful tomatoes that were part of this burrito. Nor can you see the pepitas that gave the burrito its lovely crunch.
We're trying to eat less meat these days, and I love when I create a delicious and filling meatless meal. This one definitely qualified.
These burritos took a bit of time to put together. I thought they were going to be a bit quicker than they actually were. Sometimes I find that when I'm using a bunch of fresh ingredients that need to be dealt with. It took some time to chop the tomatoes and the cilantro. It also took a bit of time to toast the pepitas. Here are a few tips that I learned when making these. 1. When toasting the pepitas, watch out because some of them will pop like popcorn and fly out of the pan. 2. When you wrap the tortillas in tin foil, make sure they are completely covered and sealed, or the parts that are uncovered will get dry. 3. Definitely use the sour cream and lime juice in the burrito.
Serve these with a little guacamole on the side – yum!
Smoky Black Bean and Cheddar Burrito with Baby Spinach
Recipe from Fine Cooking Magazine, April 2007

4 burrito-size (9- to 10-inch) flour tortillas
15 grape tomatoes, quartered lengthwise (from 1 pint)
2 Tbs. fresh lime juice; more as needed
1/4 cup chopped fresh cilantro
Kosher salt
2 Tbs. extra-virgin olive oil
1/4 cup raw pepitas (optional)
1 tsp. seeded and minced chipotle plus 1 tsp. adobo sauce (from a can of chipotles en adobo)
3/4 tsp. ground cumin
1 19-oz. can black beans, drained and rinsed
1/2 cup grated sharp Cheddar
1-1/2 oz. baby spinach (about 1-1/2 cups)
1/4 to 1/2 cup sour cream (optional)

Heat the oven to 250°F. Wrap the tortillas in aluminum foil and warm in the oven.

Meanwhile, in a small bowl toss the tomatoes with 1 Tbs. of the lime juice, about 1-1/2 Tbs. of the cilantro, and a generous pinch of salt. Set aside.

If using the pepitas, heat 1 Tbs. of the olive oil and the pepitas in a 12-inch skillet over medium heat. Cook, stirring frequently, until they are puffed and some are golden brown, 1 to 2 minutes. Using a slotted spoon, transfer the pepitas to a plate lined with a paper towel. Sprinkle with a generous pinch of salt and toss.

Return the pan to medium heat. Add the remaining 1 Tbs. olive oil. (Or if not using pepitas, heat the 2 Tbs. oil over medium heat.) Add the chipotle, adobo sauce, and cumin. Stir to blend into the oil, and then add the beans and 2 Tbs. water to the pan, stirring to blend. Simmer until warmed through, about 2 minutes. Reduce heat to low. Mash about half of the beans with a fork. Stir in the cheddar and the remaining 2-1/2 Tbs. cilantro and 1 Tbs. lime juice. Season to taste with salt. If the beans seem too thick, add a tablespoon or two of water to thin to a soft, spreadable consistency.

Working with one tortilla at a time, spread about 1/4 of the beans along the bottom third of a tortilla. Top with 1/4 of the spinach, and sprinkle with about 1/4 of the tomatoes and pepitas (if using). If you like, add a little lime juice and sour cream on top. Fold the bottom edge over the filling, fold in the sides, and roll up the burrito.

Yield: 4 servings

Print This Recipe