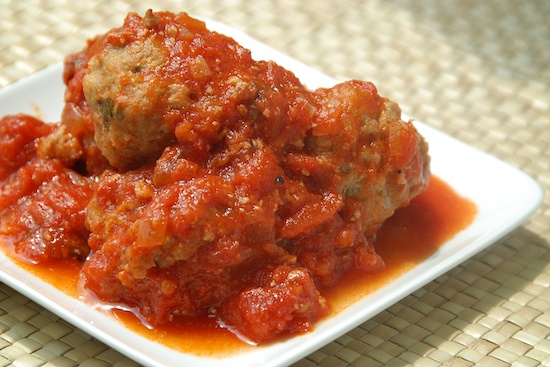 My brother recently competed in the NYC Triathlon and the night before the race, I made him (and a number of his friends) a carbo-loaded dinner of spaghetti and meatballs. Until a couple of weeks ago, I had never in my life made meatballs other than Swedish meatballs. I don't know why I've never made them before. I love meatballs – especially my mother's. When I was growing up, spaghetti and meatballs was one of my favorite dinners. I'd ask for my meatballs in a separate bowl and eat my spaghetti with butter and salt. Today, I'll put the meatballs on top of my spaghetti, but every now and then I still love a bowl of spaghetti with butter.
I made a couple of changes to the original recipe (link to original recipe is below). I made these meatballs on Shelter Island the day before the triathlon and I couldn't find ground veal at the store, so I substituted ground turkey. I didn't have day-old Italian bread so I used panko breadcrumbs instead. My final change was to bake the meatballs instead of frying them. I doubled the recipe and made 9 pounds of meatballs and I didn't feel like standing in front of the stove all night.
The sauce recipe makes a very chunky sauce. If you like a smoother sauce, use an immersion blender until you get the consistency that you like. Fresh herbs are key in this recipe. I love the lemon flavor that the meatballs have. It's subtle, but it's there and it's delicious.
Spaghetti and Meatballs
Adapted from recipe in Gourmet, January 2009

For tomato sauce:
3 (28-ounce) cans whole tomatoes in juice (preferably San Marzano)
3 (28-ounce) cans Italian-style whole tomatoes
2 medium onions, chopped
1/2 cup extra-virgin olive oil
6 garlic cloves, finely chopped

For meatballs:
2 medium onions, finely chopped
1/4 cup extra-virgin olive oil
10 garlic cloves, finely chopped
1 3/4 cups Panko breadcrumbs
6 large eggs
2 cups grated Parmigiano-Reggiano (1/4 pound)
1/3 cup finely chopped flat-leaf parsley
1/4 cup finely chopped oregano or 1 teaspoon dried, crumbled
1 tablespoon grated lemon zest
1 1/2 pounds ground turkey
1 1/2 pounds ground pork
1 1/2 pounds ground beef (not lean)

Accompaniment: grated Parmigiano-Reggiano

Make sauce:
Drain tomatoes, reserving juice in a large bowl. Crush tomatoes with your hands and add to juice.

Cook onions in oil in pot over medium heat, stirring occasionally, until softened, about 10 minutes. Add garlic and cook, stirring occasionally, until softened, about 2 minutes. Stir in tomatoes with their juice, 4 teaspoon salt, and 1 teaspoon pepper. Simmer sauce, uncovered, stirring occasionally, until slightly thickened, 45 minutes to 1 hour. Season with salt.

Make meatballs while sauce simmers:

Preheat oven to 350 degrees.

Cook onions in extra-virgin olive oil in a 12-inch heavy skillet over medium heat, stirring occasionally, until softened, about 10 minutes. Add garlic and cook, stirring occasionally, until softened, about 3 minutes. Transfer to a large bowl to cool.

Stir together cooled onion mixture, breadcrumbs, eggs, Parmesan, parsley, oregano, lemon zest, 5 1/2 teaspoons salt, and 1 1/2 teaspoons pepper until combined. Add meats to breadcrumb mixture, gently mixing with your hands until just combined (do not overmix).

Form meat mixture into about 70 (1 1/2-inch) balls (mine were about the size of golf balls) with dampened hands, arranging meatballs on 2 large baking sheets or in shallow baking pans.

Bake meatballs for ~25 minutes.

Add meatballs to sauce and gently simmer, covered, stirring occasionally, until cooked through, 20 to 30 minutes. (If pot is not large enough, divide meatballs and sauce between 2 pots.)

Prepare pasta:
Cook spaghetti in 2 batches in pasta insert in boiling salted water (3 tablespoon salt for 6 qt water) until just al dente, draining and tossing each batch with some of sauce in a large serving dish.

Serve with meatballs, remaining sauce, and grated cheese.

Cooks' notes:
•Meatballs can be made and simmered in sauce 5 days ahead and chilled (covered once cool).
•Meatballs with sauce can be frozen in an airtight container or heavy-duty sealable bags up to 3 months.

Yield:  12 – 16 servings
[Print_link]