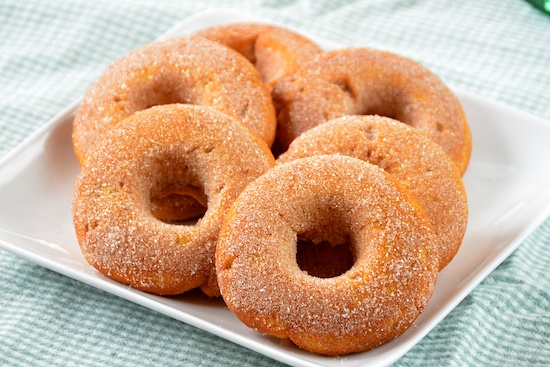 On the way home from Maine last summer, we stopped at the Stonewall Kitchen store. We had a delicious lunch and walked through their beautiful store. I was tempted by a box of their doughnut mix which came with a doughnut pan. Their doughnut mix, like all of their other products, was delicious. After using their mix, I decided to try to make my own baked doughnuts. They were a huge flop. They were so dense and heavy that they hit your stomach like a rock.  It wasn't until yesterday morning that I was brave enough to try another doughnut recipe.  This one got excellent reviews online and I just happened to have some canned pumpkin left after making these muffins (sans frosting) the other day for breakfast.
The picture that you're looking at shows the doughnuts bottom-side up. The top of the doughnuts weren't so pretty and even. I spooned the batter into the doughnut pan and put it into the oven all lumpy, figuring that it would smooth itself out during the baking. It didn't.  Next time I make these, I'll smooth the batter in the pans until it's fairly smooth before tossing them in the oven. I think I'll get a better looking result.
If you find that you've waited too long before tossing the doughnuts in the cinnamon sugar mixture, and the sugar won't stick, try spraying them with a light coating of canola oil. You can also brush them lightly with melted butter. The sugar/cinnamon will then stick to them.
These doughnuts were great. I love that they're baked and not fried. They were both light and moist and the boys inhaled them.
Pumpkin Cake Doughnuts
Recipe from King Arthur Flour

1/2 cup vegetable oil
3 large eggs
1 1/2 cups granulated sugar
1 1/2 cups canned pumpkin
1 1/2 teaspoons pumpkin pie spice
1 1/2 teaspoons salt
1 1/2 teaspoons baking powder
1 3/4 cups + 2 tablespoons all-purpose flour

Coating
3 tablespoons cinnamon-sugar

Preheat the oven to 350°F. Lightly grease two standard doughnut pans.

Beat together the oil, eggs, sugar, pumpkin, spices, salt, and baking powder until smooth. Add the flour, stirring just until smooth.

Fill the wells of the doughnut pans about 3/4 full; use a scant 1/4 cup of batter in each well.

Bake the doughnuts for 15 to 18 minutes, or until a cake tester inserted into the center of one comes out clean.

Remove the doughnuts from the oven, and after about 5 minutes, loosen their edges, and transfer them to a rack to cool.

While the doughnuts are still warm (but no longer fragile), gently shake them in a bag with the cinnamon-sugar.

Cool completely, and wrap airtight; store at room temperature for several days.


Yield: 12 doughnuts

One year ago: Mexican Lasagna
Two years ago: Chocolate Dutch Baby
Three years ago: Meyer Lemon Sorbet
Four years ago: Sweet and Sour Pork Chops
Five years ago: Candied Carrots

Print This Recipe