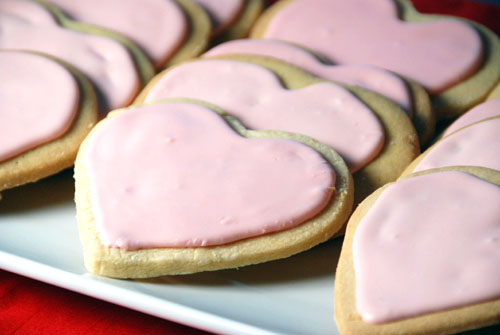 A couple of weeks ago one of my sons' teachers stopped me at drop-off and asked if I would make cookies for the children to decorate for Valentine's Day.   I agreed of course, but I was nervous.   The cookies that immediately came to mind were frosted shortbread.   The only problem – I had never made shortbread before, and I also don't make cookies that you roll out and cut with a cookie cutter.   I had tried several times in the past, but the dough always stuck to the rolling pin, or to the pan or counter, and I was never successful.   That said, I was willing to give it a try again, so off I went to experiment.    About a week before Valentine's Day, I found a recipe for shortbread that got pretty good reviews online.   I made it, and I wouldn't exactly call it a success.  The dough was very difficult to deal with – it was either too hard from the refrigerator, or too soft and sticky once it started to warm up.   The cookies were also dense and heavy.  Edible, but not excellent.   I needed to shift gears.   I started to look for roll-out sugar cookie recipes.   I found this one, and it turned out to be delicious and very easy to make.   The dough was very forgiving.  Not too sticky, and very workable.   When the dough got a bit sticky, I just tossed some more flour on it when I was rolling it out, and it didn't seem to affect the dough at all.   When I made these, I decided to roll out the dough directly on the cookie sheet.   Once the cookies were cut, I pulled up the extra dough and rolled it again to make another batch of cookies.
I ended up with some pretty nice looking heart-shaped cookies.   Then all I had to do was tackle the frosting.   I needed something that would dry hard so the children could draw on the cookies.   I knew it had to be royal icing –  another thing I had never made before.
My friend Anthony came over when I was making the frosting.  He's an excellent cook, and he helped me get the royal icing going.   It actually wasn't too hard., and it dried nicely overnight which made it perfect for decorating.   I decided to buy Wilton Edible Markers for the kids to use to decorate the cookies.    I also bought bags and twist-ties so the cookies could be brought home.   All in all, it was a great learning experience for me, and a great Valentine's Day project for the 6-year olds.  I'll definitely make these again.  They were delicious!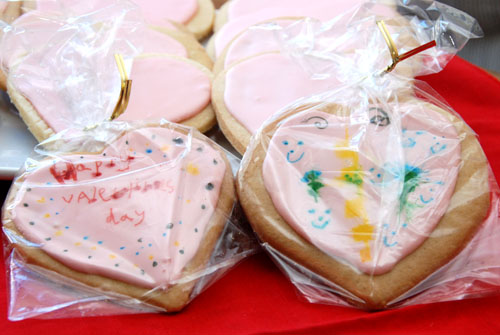 Dutch Sugar Cookies
From Bon Appetit, December 1996

1 1/2 cups powdered sugar
1 cup (2 sticks) unsalted butter, room temperature
1 large egg
2 teaspoons vanilla extract
2 1/2 cups all purpose flour
1 teaspoon baking powder
1/2 teaspoon salt

Using electric mixer, beat sugar and butter in large bowl until light. Beat in egg and vanilla. Add flour, baking powder and salt. Mix just to combine. Divide dough in half. Gather each piece into ball; flatten into disks. Wrap in plastic and chill 1 hour.

Preheat oven to 325°F. Roll out 1 dough disk on floured work surface to 1/8-inch thickness. Using assorted cookie cutters, cut out cookies. Transfer cookies to ungreased baking sheets, spacing 1 inch apart. Gather dough scraps; re-roll to 1/8-inch thickness. Cut out more cookies.

Bake cookies until pale golden, about 13 minutes. Transfer cookies to racks; cool. Repeat with remaining dough disk.

Frost with royal icing by piping it onto the cookies from a pastry bag.    Let cookies stand until frosting sets, ~8 hours.  Store in airtight container at room temperature up to 1 week, or freeze up to 1 month.

Yield:  ~ 3 dozen cookies (depending upon size).

Royal Icing

2 tablespoons Just Whites (dried egg whites)
5 1/2 tablespoons lukewarm water
1/2 teaspoon lemon juice
1/2 teaspoon vanilla
1 box confectioners sugar (16 ounces)

Beat egg white powder and confectioners' sugar on low until well blended. Gradually beat in water, lemon juice and vanilla; continue beating on high until icing is very thick and glossy, about 6 to 8 minutes.

Keep icing covered at all times while not being used. Add food coloring if desired.  Use a pastry bag to pipe the icing on the cookies.

Yield:  ~ 2 1/2 cups of Royal Icing.

Print This Recipe