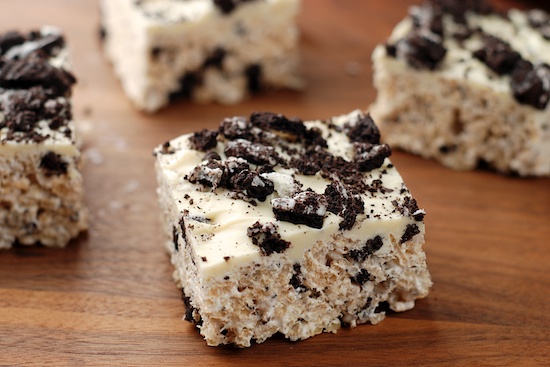 My boys LOVE Rice Krispie treats. I don't make them often, but when I saw this recipe on the Cooking Classy blog recently, I knew I had to try it. I made the first batch for my boys and some friends of theirs. They all LOVED them. I must admit that I loved them too. I sent the second batch to my brother-in-law in Afghanistan. He's a doctor and was sent to Bagram Airbase for six months. I hope they're still fresh when they get to him. We're counting the days until his return, especially my sister who has two small children at home.   Thank goodness for technology – they are able to speak by Skype every day.
If you enjoy Rice Krispie treats and you like Oreos and white chocolate, this is the dessert for you.
The first time I made this recipe, I didn't have enough white chocolate to cover the entire tray, so I used what I had.   The oreos that didn't end up on the white chocolate still stuck because the Rice Krispie treats were still tacky to the touch when I added them.

Oreo Rice Krispie Treats
Recipe from Cooking Classy

1/4 cup salted butter
1 (10.5) oz bag mini marshmallows (note: if you have an extra bag, you can add an additional cup of marshmallows, if desired. I recommend it.)
6 cups Rice Krispies cereal
10 oreos, chopped into bits (about the size of pebbles, there will be powder too), about 1 cup
1 1/3 cups white chocolate chips
6 oreos, chopped into bits (about the size of pebbles), about 1/2 cup

Butter or spray a 13 x 9 pan, set aside. Melt butter in a large non-stick saucepan over medium low heat, swirling butter up along edges of the pan (this helps the marshmallows stick much less). Stir in marshmallows and stir constantly until melted. Remove from heat and gently stir in Rice Krispies cereal, stir until evenly coated. Fold in 10 chopped Oreos. Pour mixture into buttered dish. Using a buttered spatula or greased hands gently press mixture evenly into dish, set aside. In a microwave safe bowl, melt white chocolate chips on 50% power in 30 second intervals, stirring after each interval until melted and smooth. Spread melted chocolate evenly over Rice Krispie treats and immediately (before chocolate hardens) sprinkle with 6 chopped Oreos. Gently press the Oreo pieces down with your hands. Cover and refrigerate about 10 minutes, or alternately let rest on counter until chocolate hardens.

Yield: 18 servings

One year ago: Homemade Cheez-It Crackers
Two years ago: Breakfast Tart with Pancetta and Green Onions
Three years ago: Chive Risotto Cakes
Four years ago: Oatmeal Cranberry Cookies

Print This Recipe