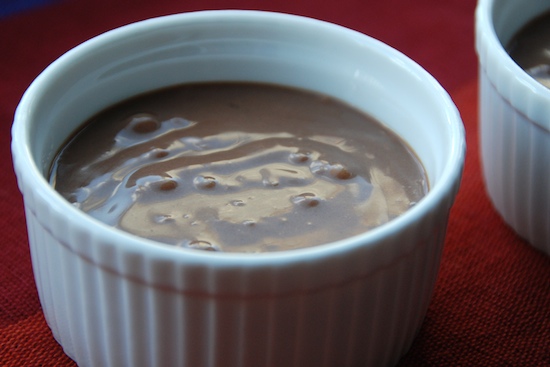 I love this pudding, and when I eat it, it always amazes me that it's made of tofu.   No cream, no eggs… tofu.   I don't even like tofu, except in this pudding.
I've made this two ways, the Mexican way described below and the plain chocolate way, omitting any of the spices.   My boys prefer the plain chocolate pudding.  The chili powder and cinnamon were a bit too sophisticated a flavor for them.  I loved it though.  This is one of those desserts like these brownies, that I don't mind the boys eating because I know it's getting some protein into them.
If you have never made chocolate pudding out of tofu before, I suggest that you give this a try.   The consistency is unbelievable – so thick, creamy and smooth, and it takes no time at all to make.
Mexican Chocolate Tofu Pudding
Recipe by Mark Bittman,  published in the NY Times

3/4 cup sugar
1 pound silken tofu

8 ounces high-quality bittersweet or semisweet chocolate, melted

1 teaspoon vanilla extract

1 1/2 teaspoons ground cinnamon

1/2 teaspoon chili powder, or more to taste

Chocolate shavings (optional)

In a small pot, combine sugar with 3/4 cup water; bring to a boil and cook until sugar is dissolved, stirring occasionally. Cool slightly.

Put all ingredients except for chocolate shavings in a blender and purée until completely smooth, stopping machine to scrape down its sides if necessary. Divide among 4 to 6 ramekins and chill for at least 30 minutes. If you like, garnish with chocolate shavings before serving.

Yield: 4 to 6 servings

Print This Recipe