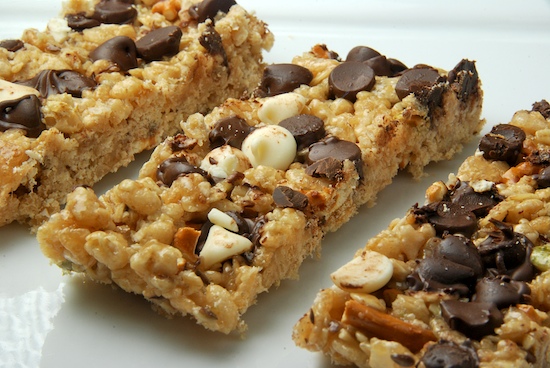 My husband went out to play guitar with a bunch of friends tonight and I stayed home with the boys.   It's a Friday so the boys are allowed to play with their Wii (they're not allowed to play during the week, so they look forward to Friday afternoons!)   Three of the four like the Wii.   Actually they all like it now because the one that didn't really like it got Lego Rock Band for Christmas.   Anyway, one of my sons didn't feel like playing anymore tonight, so I asked him if he wanted to try to make granola bars.   He got really excited so off we went to the kitchen.   I was happy that we had all of the ingredients in the house.
I went to Costco yesterday (there's one in Manhattan now – hooray!) and got a big box of granola which I used tonight.   A couple of my sons had some for dessert before the granola bars were ready.
These bars are quite good.   I attempted to make granola bars a couple of years ago and failed.    The consistency was poor and I didn't really like the taste.  These on the other hand are delicious.   The remind me of Quaker Chewy Chocolate Chip granola bars.   When I made these, I left the raisins out because my boys don't like raisins in things.   I also used a mixture of semi-sweet chocolate chips and white chocolate chips.    The white chips were a nice addition.
The mixture is very sticky when you're pressing it down into the pan.   I wore a disposable latex glove when I did it.  You can also put a Ziploc bag over your hand which will serve the same purpose.   Dampening your hand, or the glove/Ziploc bag will help if you find the mixture sticking to you.
Once the bars set, I found them a bit challenging to cut.  Not impossible, but not terribly easy either.   I had to use a spatula to cut them.   A knife didn't work well.   I also had to sacrifice a couple of them to get the rest of the bars out in the shape of nice rectangles.  I'll definitely make these again.
I'll definitely make these again and I'm not sure I'll buy the Quaker Oats granola bars anymore since they're so easily reproducible at home. I also like the fact that mine don't include: partially hydrogenated soybean and cottonseed oils, TBHQ, citric acid, corn syrup solids, glycerine, sorbitol, natural and artificial flavor, and BHT. I don't even know what a bunch of those things are, but I do know that a couple of them scream trans-fats.    Yuck.    I much prefer the simple ingredient list I used below.
No-Bake Chewy Granola Bars
From Everyday With Rachael Ray

4 tablespoons (1/2 stick) unsalted butter
1/2 cup packed light brown sugar
1/4 cup honey
2 cups granola, such as Back to Nature brand
1 cup rice cereal, such as Rice Krispies
1/2 cup raisins
1/2 cup thin pretzel sticks
1/2 cup semisweet chocolate chips, or any combination of chips that you like

In a medium saucepan, combine the brown sugar with the honey and butter. Bring the mixture to a boil over medium-high heat, then lower the heat to medium-low and simmer until the sugar dissolves, about 2 minutes. Remove the saucepan from the heat.

Add the granola, rice cereal, raisins and pretzels to the saucepan and fold the ingredients to evenly coat with the sauce. Transfer the granola mixture to a 9-by-13-inch ungreased baking pan and press firmly to evenly fill. Gently press the chocolate chips onto the top of the granola. Let the granola mixture set in the refrigerator until firm, about 15 minutes, then cut into rectangular bars.

Yield: ~18 bars

Print This Recipe