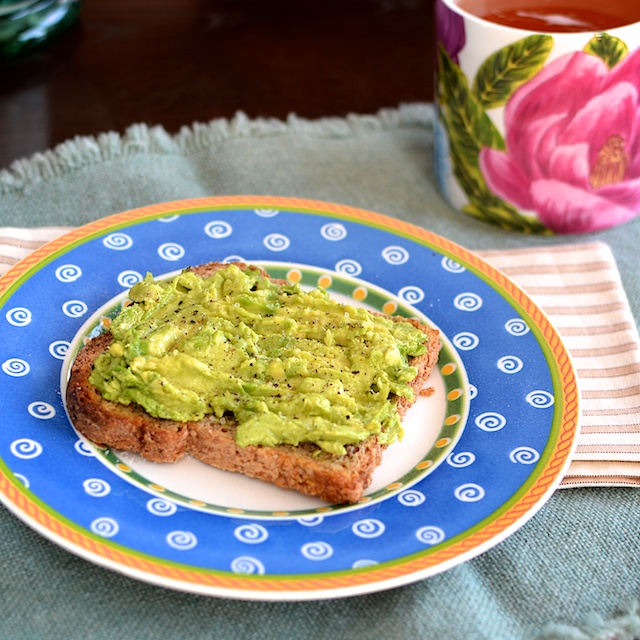 This is my new favorite breakfast! There's not much to putting it together, but the combination of olive oil, hearty whole grain bread, half an avocado, salt and pepper makes an incredible treat. The first time I made it, I had lemon olive oil on hand, which made an amazing avocado toast. Regular olive oil is good too, but the lemon olive oil was incredible. Now that I'm out of lemon olive oil, I have to figure out how to make a batch myself. Until I make the lemon olive oil, I may resort to giving my avocado toast a good squeeze of lemon or lime.
Next time I make this, I might try some Aleppo pepper or some red pepper flakes to give it a little kick.  I have been using Ezekiel 4:9 Sprouted Grain Bread.    My husband calls it virtuous, which to him means it tastes very healthy.   I think it's delicious when topped with creamy avocado.
This may sound like something you'd serve at lunch, but trust me, it's great for breakfast!
Avocado Toast

slice of bread
half a ripe avocado
olive oil
salt and pepper

Toast the bread to your liking. Drizzle it with a little olive oil. Mash the avocado on top of the toast and season with salt and pepper.

Yield: 1 serving

One year ago: Pumpkin Cake Doughnuts
Two years ago: Mexican Lasagna
Three years ago: Chocolate Dutch Baby
Four years ago: Meyer Lemon Sorbet
Five years ago: Sweet Potato Muffins
Six years ago: Candied Carrots

Print This Recipe