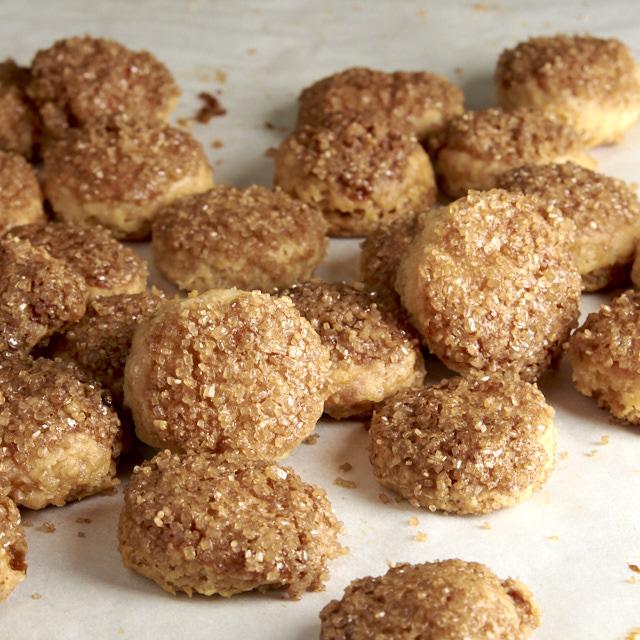 If you are a pie crust fan, these little cookies are for you. They're delicate, not too sweet and perfect for an afternoon snack with a cup of tea or coffee. Although delicious, this particular recipe is time-consuming because the dough has to rest and chill several times before you can bake it.

I will definitely make these cookies again because they're a big hit among everyone in the house, but I will experiment with other pie crust recipes, perhaps one that doesn't have quite as many steps.

Whether you make your own pie crust or buy one that's pre-made, the scraps are worth saving and baking into these tasty little treats. Next time I'm going to sprinkle them with both cinnamon and sugar!



Pie Crispies
Recipe from Food52

12 tablespoons (1 ½ sticks) unsalted butter, very cold
1 1/2 cups (192 grams) all-purpose flour
1 teaspoon kosher salt, plus a tiny pinch
1 Tablespoon granulated sugar
1/4 cup very cold water, plus more as needed
1 large egg
3 Tablespoons turbinado sugar, plus more as needed

Cut the butter into pieces—aim for 10 from the full-stick and 5 from the half-stick (so each one is slightly smaller than 1 tablespoon). Put the cut-up butter in the freezer for a few minutes, while you work on the dry ingredients.

Combine the flour, sugar, and salt in the bowl of a stand mixer, fitted with a paddle attachment. Mix for a few seconds, just to combine, then turn off. Add the butter pieces to the dry ingredients. Mix on the lowest setting possible for 5 to 10 seconds—in short bursts if necessary, so the flour doesn't fly out of the bowl—then turn off. Err on the side of undermixing at this step. You want each butter piece to be coated in flour and slightly bashed by the paddle, but most of the pieces should be barely smaller than when you started.

Turn on the mixer to the lowest setting possible, slowly pour in the 1/4 cup very cold water. Once it's all in, let the mixer run for a couple more seconds, then turn off and check the dough. The end goal is a very shaggy dough that holds together when squeezed, with some dough starting to grab onto the paddle attachment, and a few flour streaks on the side of the bowl. If the dough is still quite powdery and dry in some places and the sides of the bowl are still flour-coated, continue to mix while adding another tablespoon of water, and letting that incorporate for a couple seconds. (Repeat with more water—but only a very small amount!—if needed.)

Use your hands to gather the dough into a mass and dump onto a piece of plastic wrap. Use the plastic wrap to form the dough into a ball, then smush into a disc with your hands, so the plastic wrap is extremely snug. (You can wrap with another piece of plastic wrap for extra insurance.)

Refrigerate the dough for 30 minutes.

Lightly flour a work surface, or ideally a large piece of parchment paper. Unwrap the dough and place it on the parchment or your work surface, but save the plastic wrap—it will be reused in just a second. Roll the dough into a 12-inch circle. If you are using parchment, you can roll the pin back and forth and then turn the parchment 45 degrees and continue to roll. Keep turning and rolling until you have a twelve inch circle. Fold the dough in half using the parchment paper to help you. Fold in half again. Fold in half again. Rewrap in plastic, pressing down on the dough so it's a cohesive, roundish disc. Put it back in the refrigerator for at least another hour or up to 2 days. You can also freeze it at this point for up to 1 month.  Save the parchment paper because you can use it again later.

When you're ready to bake the cookies, crack the egg into a small bowl. Add the tiniest pinch of salt. Beat with a fork until totally smooth. Lightly flour a work surface or your original piece of parchment. Add the unwrapped dough and lightly sprinkle with flour. Gently hit the dough with a rolling pin a few times to slightly flatten. Roll into a 12-inch circle, or until the dough is about ¼- to ⅓-inch thick (err on the side of thicker versus thinner).

Use a 1 1/2–inch biscuit cutter to cut the dough into circles. I used a shot glass, which worked perfectly. You can leave the circles on the parchment, or put them onto a plate. (The scraps can be saved for something else—or turn them into randomly-shaped pie crispies!) (Note: You can also use a pizza wheel or knife to cut the dough into equally small squares—this means you won't have any leftover scraps.) Freeze the pie dough rounds (or squares) for about 30 minutes, or until pretty firm.

Meanwhile, heat the oven to 350°F. Line two sheet pans with silicone mats or parchment. (Make sure the sheet pans aren't sitting on top of the oven, which can warm them and compromise how the cookies bake.)

Pick up each pie dough round and brush with the egg wash. Be careful not to let the egg drip over the edges. Dip each cookie in a bowl of turbinado sugar and then place on the baking sheet. If you'd prefer, you can put the rounds on the baking sheet, brush with the egg wash and sprinkle the suger on top of them. Try to do this as quickly as possible! If you find that your dough is getting soft, pop the whole cookie sheet back in the freezer for 15 minutes or so.

Bake the cookies for 25 to 30 minutes—rotating the sheet trays top to bottom and front to back halfway through—until they're golden brown. 

Let cool completely before serving.

Yield: ~30 cookies or so

One year ago: Chocolate Olive Oil Cake
Two years ago: Lemon White Chocolate Bars
Three years ago: Oatmeal Scotchies
Four years ago: Nutella Biscuits
Five years ago: Spinach and Chickpea Curry
Six years ago: Salted Chocolate Caramels
Seven years ago: Ultimate Shepherd's Pie
Eight years ago: Pink Grapefruit Sorbet
Nine years ago: Tofu and Onions in Caramel Sauce
Ten years ago: Croissant Bread Pudding
Eleven years ago: Basil Parmesan Chicken Salad


Print This Recipe