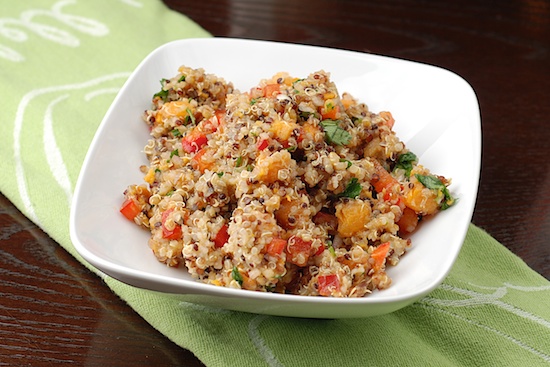 I had dinner with three friends from college the other night and two of them are staunch vegetarians. One is bordering on becoming vegan. She's vegan for Lent, so we all met in Greenwich Village at a vegan restaurant called Blossom Cafe. I read the menu online before heading downtown and I have to say that not much looked appealing to me. I thought I was going to have to stop for a hot dog on the corner before heading home. When I got there, I was pleasantly surprised. My dinner was actually delicious and I didn't notice that I wasn't eating meat. My grilled tofu was bathed in an incredible sauce. It really could have been chicken.
My friend Linda told me that I have to watch a video called Forks over Knives. She also recommended a book called The China Study. I plan to get both of them. Apparently I won't want to eat much more meat after watching the video and reading the book. I'll let you know how I feel after I digest them.
In the spirit of vegetarianism, here's a great recipe that I found on Mark Bittman's website. I followed the recipe exactly and it was amazing. This is one of those salads that's great the first night, but even better the second. This salad is great at room temperature or cold from the refrigerator.
Sweet Potato and Quinoa Salad
Recipe from Mark Bittman

2 1/2 cups cooked quinoa or 1 cup raw
1 large or 2 medium (about 1 pound) sweet potatoes
Salt
1 red bell pepper, cored, seeded, and diced
1/4 cup minced red onion or shallot
Freshly ground black pepper
1/4 cup extra virgin olive oil
2 tablespoons balsamic vinegar
1/4 cup minced fresh chives or parsley leaves

If you haven't already, cook the quinoa or other grain. Drain in a strainer and rinse. Meanwhile, peel the sweet potato and dice it into 1/2-inch or smaller pieces. Put the sweet potato into a pot and add enough water to the pot to cover the sweet potatoes. Cook them it in boiling salted water until they're tender, about 15 minutes; drain well.

Toss together the sweet potato, quinoa, bell pepper, and onion; sprinkle with salt and pepper. Whisk the oil and vinegar together and toss the salad with about half of this mixture; add the rest of the dressing to taste (I used it all). Taste and adjust the seasoning, garnish with the chives or parsley and serve.

Yield: 4 servings

One year ago: Chicken and Rice Stoup
Two years ago: Sugar Crusted Popovers
Three years ago: Whoopie Pies
Four years ago: Lasagna with Pink Sauce, Leeks and Sausage

Print This Recipe