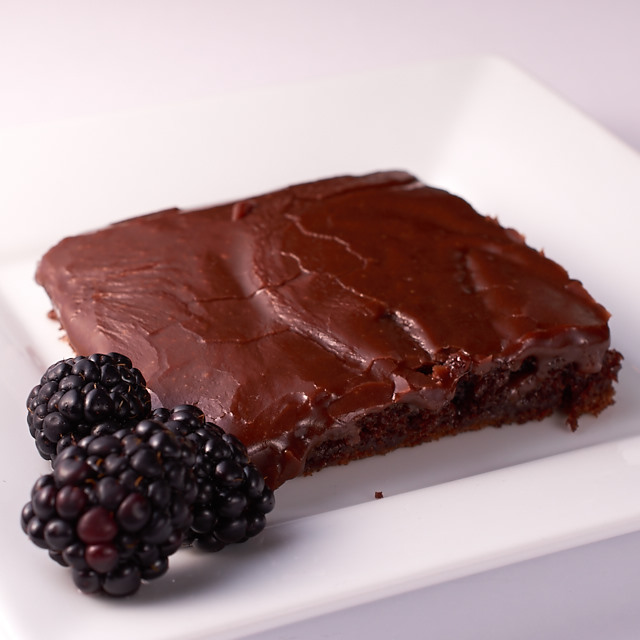 This is a delicious cake that is easy to throw together, and if you like to bake, there's a good chance that you'll have all of the ingredients on hand. I made this cake the other night for dessert, and it was very good, warm, out of the oven. The frosting was soft and slightly runny on the warm cake. The next day, we had another piece for dessert. The bulk of the cake had been left on the counter overnight, wrapped in plastic. One piece, the one that was used in the photograph, was wrapped and put into the refrigerator. The cake from the counter was good, but the piece from the refrigerator was really good. That night, we put the remaining cake, and there wasn't much, into the freezer. The next day, the frozen cake was outstanding! I mean really outstanding. The frosting reminded me of fudge. The cake didn't get very hard. It was still very easy to cut with a knife or fork, but there was something about the frozen cake that was out of this world. It reminded me of when I used to like frozen Devil Dogs, except this cake froze to a much nicer taste and consistency.
This is a very thin cake, because it's made in a half-sheet pan. Mine was ~ 13″ x 18″. I think the cake has a great cake to frosting ratio. Not too much of either; just the right amount.
The recipe calls for mixing finely chopped pecans into the frosting. I think that would be delicious, but the boys would have hated it, so I left the nuts out. One of the beauties of this cake is that you can mix the whole thing by hand (no blender necessary) and have it in the oven in no time at all, and because the cake is thin, it doesn't take that long to cook either. It's great for a crowd. Serve it right out of the sheet pan.
If you don't happen to have buttermilk on hand, you can make your own. If you want to make a cup of buttermilk, fill a glass measuring cup with milk just shy of the 1-cup mark. Add a Tablespoon of white vinegar or fresh lemon juice and let the mixture sit on your counter for 5-10 minutes. The buttermilk won't be quite as thick as the stuff you buy in the store, but it will work perfectly for a recipe like this.
Texas Sheet Cake
Recipe from The Pioneer Woman

2 cups flour
2 cups sugar
1/4 teaspoon Kosher salt
4 heaping Tablespoons cocoa powder
2 sticks butter
1 cup boiling water
1/2 cup buttermilk
2 whole eggs, slightly beaten
1 teaspoon baking soda
1 teaspoon vanilla

Frosting:
1/2 cup finely chopped pecans, optional
1-3/4 stick butter
4 heaping Tablespoons of cocoa powder
6 Tablespoons milk
1 teaspoon vanilla
1 pound (minus 1/2 Cup) powdered sugar

In a mixing bowl, combine flour, sugar, and salt.

In a saucepan, melt butter. Add cocoa. Stir together.
Add boiling water, allow mixture to boil for 30 seconds, then turn off heat. Pour over flour mixture, and stir lightly to cool.

In a measuring cup, pour the buttermilk and add beaten eggs, baking soda, and vanilla. Stir buttermilk mixture into butter/chocolate mixture. Pour into half sheet pan (no need to grease it) and bake at 350-degrees for 20 minutes.

While cake is baking, make the icing. If using, chop pecans finely. Melt butter in a saucepan. Add cocoa, stir to combine, then turn off heat. Add the milk, vanilla, and powdered sugar. Stir together. Add the pecans (if you've chosen to use them), stir together, and pour over the warm cake.

Yield: ~24 servings

Two years ago: Chocolate Sheet Cake with Delicious Vanilla Frosting
Three years ago: Pasta and White Beans with Broccoli Pesto
Four years ago: Carrot Coconut Milk Soup
Five years ago: Mexican-Style Slaw with Jícama, Cilantro and Lime
Six years ago: Vanilla Brown Sugar Breakfast Polenta
Seven years ago: Chick Pea Soup

Print This Recipe