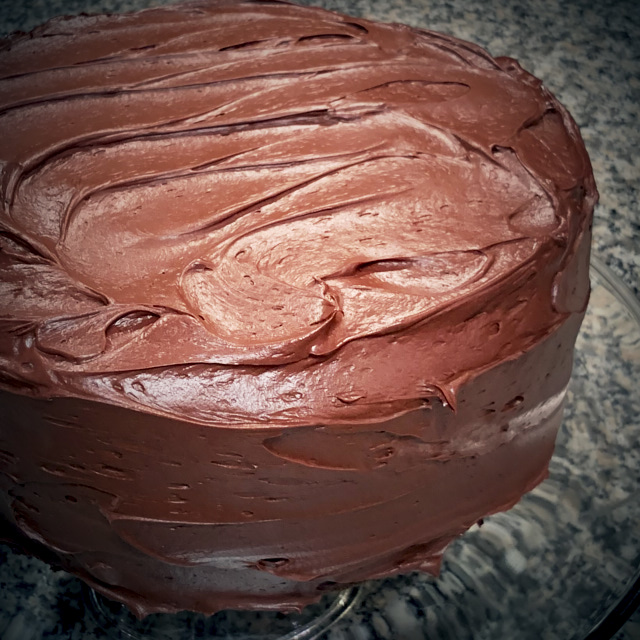 I can safely say that this is the best chocolate cake I have ever made. It is really moist, even several days after it's made, and it's incredibly chocolatey. I have made a number of cakes that have "essence of chocolate', as my grandmother used to say, meaning it barely had any real chocolate taste at all. This cake is not something you're going to make a couple of hours before a party starts. For me, this cake took a couple of days to make; it's definitely time consuming. I baked the three chocolate layers on the first day. When they were cool, I wrapped them tightly with plastic wrap and refrigerated them overnight. This isn't necessary, but I started baking at the end of the day, and there wasn't enough time to make the frosting that night. The frosting is delicious and like no other that I have made before. I have never before put frosting in the freezer, then whipped it up again.
Try this cake if you have some time and you want to make something show-stopping. I brought this to our Thanksgiving celebration and everyone raved about it. We ate some of the leftover cake five and six days after Thanksgiving and it was still incredible.
This cake calls for one ingredient that you might not have in your kitchen cabinets: Lyle's Golden Syrup. It's worth finding. Worst case, Amazon has it (is there anything that Amazon doesn't sell these days?)

NB:  I just made this cake again, and didn't realize that I didn't have enough Lyle's Golden Syrup.  I had 2 Tbsp. and I needed 4.  I substituted corn syrup and it worked like a charm.  Another tip about this cake – it's great frozen.  If there's any left over after we serve it, we put it in the freezer and eat ice cold slices.  They're really good!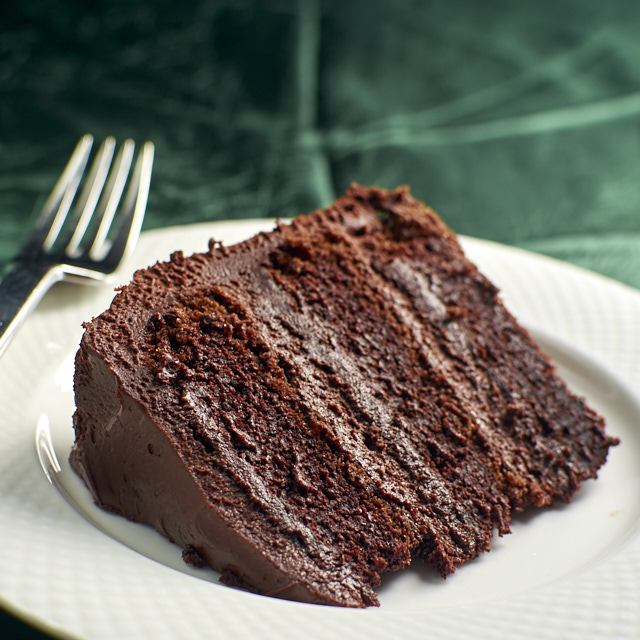 The BEST Chocolate Layer Cake
Recipe from Fine Cooking

For the cake:
6 oz. (3/4 cup) unsalted butter; more for the pans
13-1/2 oz. (3 cups) unbleached all-purpose flour; more for the pans
3/4 cup canola oil
4-1/2 oz. bittersweet chocolate, finely chopped
3 cups granulated sugar
2-1/4 oz. (3/4 cup) natural unsweetened cocoa powder
3 large eggs, at room temperature
3/4 cup buttermilk, at room temperature
2 Tbs. pure vanilla extract
2-1/2 tsp. baking soda
1/2 tsp. kosher salt

For the frosting:
2-1/2 cups heavy cream
3 oz. (6 Tbs.) unsalted butter 1 vanilla bean, split lengthwise and seeds scraped out
6 oz. bittersweet chocolate, finely chopped
2 cups granulated sugar
6 oz. (2 cups) natural unsweetened cocoa powder; more for decorating
1/2 cup Lyle's Golden Syrup
1/4 tsp. kosher salt

Position racks in the bottom and top thirds of the oven and heat the oven to 350°F.

Butter three 9×2-inch round cake pans and line each with a parchment round. Butter the parchment, then dust with flour and knock out the excess.

In a 3-quart saucepan, combine the butter, oil, chopped chocolate, and 1 cup water. Heat over medium heat until melted.In a large bowl, whisk the flour, sugar, and cocoa powder. Pour the hot chocolate mixture into the sugar mixture and whisk until combined.

Whisk in the eggs, one at a time, then whisk in the buttermilk, vanilla, baking soda, and salt. Divide the batter evenly among the prepared pans.Set two pans on the top rack and the third on the lower rack. Stagger the pans on the oven racks so that no pan is directly over another. Bake, swapping and rotating the pans' positions after 20 minutes, until a toothpick inserted in the center of each cake comes out clean, 35 to 40 minutes. Cool on racks for 10 minutes. Invert the cakes onto the racks, remove the parchment, and cool completely.

Make the frosting; In a 4-quart saucepan over low heat, combine the cream, butter, and vanilla bean and seeds and stir until the butter is melted. Remove the vanilla bean and whisk in the chopped chocolate until melted. Whisk in the sugar, cocoa powder, syrup, and salt until smooth—be sure the cocoa powder dissolves completely. Pour into a 9×13-inch pan and freeze until firm, about 2 hours, or refrigerate overnight.

Assemble the cake; Remove the frosting from the freezer or refrigerator. Transfer to the bowl of a stand mixer fitted with the paddle attachment and beat on medium speed for 2 minutes to soften. Change to a whisk attachment and beat at medium-high speed until light and fluffy, about 3 minutes. Put a cake layer on a flat serving platter or a cake stand lined with strips of waxed paper to keep it clean while icing. Top the layer with 1-1/2 cups of the frosting, spreading it evenly with an offset spatula to the cake's edge. Repeat with another cake layer and 1-1/2 cups frosting. Top with the last cake layer. Put 1-1/2 cups of the frosting in a small bowl. With an offset spatula, spread this frosting in a thin layer over the top and sides of the cake. Refrigerate the cake until the frosting firms enough to seal in the crumbs, 20 to 30 minutes.Spread the remaining frosting in a smooth layer over the top and sides of the cake. If necessary, you can rewhip the remaining frosting to loosen and lighten it. Remove the waxed paper strips.

Make Ahead Tips

You can bake, cool, wrap, and store the cake layers at room temperature for up to 1 day or freeze for up to 1 month. You can refrigerate the frosting for up to 3 days. The assembled cake can be refrigerated for up to 4 hours (return to room temperature before serving).

Yield: 16 servings

One year ago: Gingerbread Biscotti
Two years ago: Cake Batter Truffles
Three years ago: Baked Sweet Potatoes with Coconut Curry Chickpeas
Four years ago: Candied Orange Peel
Five years ago: Sugared Pretzel Cookies
Six years ago: Quinoa Mac and Cheese
Seven years ago: Granola
Eight years ago: Boston Cream Pie
Nine years ago: Pear Salad with Raspberry Cream
Ten years ago: Roasted Potato Leek Soup
Eleven years ago: Zucchini Gratin