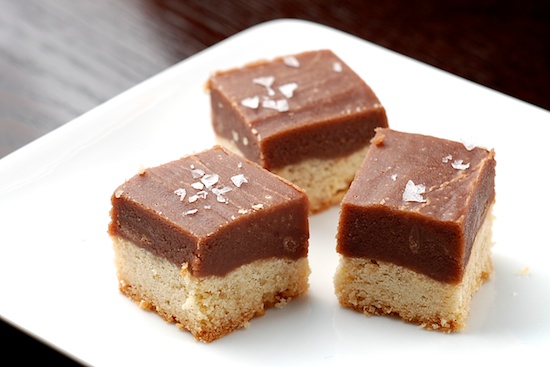 These little squares are quite delicious, but they're devilish to make. The first time I made them, I was trying to make the chocolate caramel by following the instructions in the recipe and the whole batch siezed. It crystallized and became hard like rock candy before it ever turned amber. It was a disaster. I was determined to complete the bars because I had the shortbread layer baked and waiting for the caramel, so I tried again. On my second attempt, the sugar did not turn amber, but after cooking it for 20 minutes, I moved on to the next step anyway because I didn't want the sugar to crystallize again. I have since done some additional reading and I learned that a couple of drops of lemon juice mixed with the sugar and water will prevent the sugar from crystallizing. I'll definitely try this next time when I attempt to get my sugar to caramelize.
I'd definitely make these again and hopefully I won't have the trouble that I did the first time.
I found that I had to keep these refrigerated. When they came to room temperature, my chocolate caramel layer became soft. Served cold, they were perfect!

Salted Chocolate Caramel Cookie Bars
Adapted from Martha Stewart

For the Crust:
4 1/2 ounces (9 tablespoons) unsalted butter, room temperature, plus more for parchment
1/4 cup packed light-brown sugar
1 1/2 cups all-purpose flour
1/4 teaspoon table salt
a couple of drops of lemon juice (optional)

For the Chocolate Caramel:
10 1/2 ounces milk chocolate, chopped (2 cups)
1 1/2 cups granulated sugar
1/4 cup water
3 ounces (6 tablespoons) unsalted butter
1 cup heavy cream
1/2 teaspoon table salt
1 tablespoon sea salt, preferably fleur de sel

Preheat oven to 350 degrees.

Make the crust: Line a 9-inch square baking pan with parchment, leaving an overhang on all sides; butter parchment, excluding overhang. Beat butter and brown sugar on medium speed until pale and fluffy, about 3 minutes. Add flour and table salt, and beat until just combined.

Press dough evenly into pan, and bake until lightly browned, about 30 minutes.

Make the chocolate caramel: Place chocolate in a medium bowl. Heat granulated sugar, water and a drop or two of lemon juice in a small heavy-bottomed saucepan over medium-high heat. Stir with a wooden spoon until the sugar is dissolved. Once the sugar is dissolved, stop stirring. Bring the sugar to a boil. At about 8 minutes or so, the sugar should start to turn amber. At this point you can swirl the pan to keep the color even. Once the sugar starts to turn brown, it will continue to turn amber quickly, so get prepared to remove the pan from the heat. Off the heat, add butter, cream, and table salt. Put the pan back on the flame and bring the mixture to a boil, stirring until smooth. Once smooth, pour over chocolate. Let stand for 2 minutes. Stir to combine, and let stand until cool, about 10 minutes.

Pour chocolate caramel mixture over crust. Refrigerate at least 4 hours, or overnight. Run a knife around edges; lift parchment to remove whole bar from pan. Sprinkle with sea salt. Trim edges, and cut into 32 bars.

Yield: 32 squares

One year ago: Spanakopita Lasagna
Two years ago: Chocolate Chip Waffles
Three years ago: Dinner Spanakopita
Four years ago: Cheddar Corn Chowder

Print This Recipe