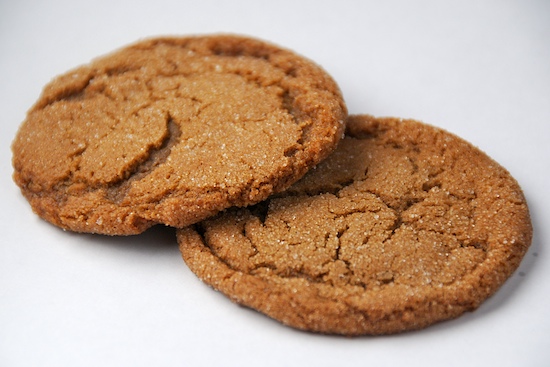 Molasses spice cookies – doesn't sound too appealing, does it?   I'm not a huge molasses fan, and if this recipe hadn't been recommended to me, I never would have tried it.     I'm glad I did though because boy are these cookies delicious!   My niece Christina sent me the recipe as part of a recipe exchange.   I was supposed to receive 36 recipes, but only received 2.   Even if I don't receive another recipe, I'm so pleased with this one that it was worth participating.   For me, this is one of those cookies that I can eat a million of without thinking twice about it.
This recipe doesn't involve any type of blender or stand mixer.  The dough is made by stirring the ingredients together in a pot.  It's old-fashioned that way.
I wondered what the boys would think of these, because they're not your typical chocolate chip or sugar cookie, but much to my surprise, they all liked them.  The cookies have a sugary crust and are crunchy on the outside and chewy on the inside.   They really have a great texture.  And did I tell you that they're delicious too?  They're a perfect fall cookie.   Your home will smell amazing as they bake.
Joanna Pruess's Molasses Spice Cookies
From Great Cookies:  Secrets to Sensational Sweets by Carole Walter


3/4 cup (1 1/2 sticks) unsalted butter
2 cups all-purpose flour, spooned in and leveled
2 teaspoons baking soda
1 teaspoon ground cinnamon
1 teaspoon ground ginger
3/4 teaspoon salt
1/2 teaspoon cloves
2 cups sugar, divided
1/4 cup dark molasses
1 large egg

Make the dough: Melt the butter in a 3-quart, heavy saucepan over low heat. (This cookie is mixed by hand in the pot.) Cool to tepid.

Strain together three times the  flour, baking soda, cinnamon, ginger, salt and cloves. Set aside.

Using a wooden spoon, stir 1 1/2 cups of the sugar, the molasses and egg into butter, mixing until smooth.   Add the dry ingredients, one-half at a time and blend well.  Cover with wax paper and chill of 30 to 45 minutes, until firm.

Bake the cookies: Position the shelves in the upper and lower third of the oven.  Heat oven to 375 degrees. Moderately butter the cookie sheets.

Shape dough into 1-inch balls between the palms of your hands. Place the remaining 1/2 cup of sugar in a shallow dish and roll the balls of dough in the sugar. Place the balls 2 inches apart on the cookie sheet.

Bake the cookies for 8 to 10 minutes  or until the tops begin to crack. Toward the end of the baking time, rotate the pans from top to bottom and front to back. Remove from the oven and let stand 2 to 3 minutes. Loosen with a spatula and transfer to a cooling rack.

Yield:  ~40 cookies

Print This Recipe