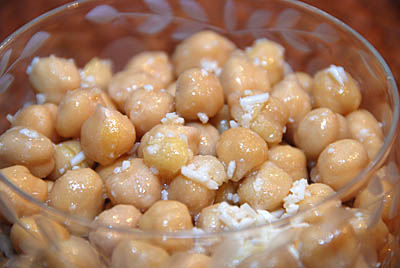 Here's my first savory post. Last week I had the flu and spent almost the entire week in bed. While in bed I watched the Food Network ad infinitum. Some of the shows were very interesting and prompted me to try a few new recipes and some were just awful, like when I watched one of the chefs battering and frying slices of cheesecake. Yuck!
In addition to watching the Food Network, I spent some time surfing the web. I came across some great cooking blogs which also inspired me to try a couple of new recipes. I found this recipe for Chickpea salad on a blog called Orangette. It is the most delicious salad I've had in a while. I made it on Saturday, again on Sunday and made a double batch yesterday. It is so buttery and good I could make it again today, but I think I'll try something else. I highly recommend that you try it, especially if you like garbanzo beans. I also recommend that you read Orangette if you like to cook. Her prose and photographs are beautiful.
In my search for healthy food that my boys will eat, this recipe didn't do too well. Only one of the four boys would try it, and he'd only try it if I washed the cheese off. This recipe didn't score too highly with the boys, but it's a winner for me.
Before I end this post, let me tell you a little about chickpeas or garbanzo beans. They originated in the Middle East and were eaten by the ancient Romans, Greeks and Egyptians. Today they can be found in many Middle Eastern dishes like hummus, falafel and curries. Chickpeas are incredibly good for you, being high in fiber, protein, zinc, calcium and a number of minerals that I only ever see listed on the back of vitamin bottles like molybdenum, manganese, tryptophan, etc. They're also tasty and delicious. Try them!
Chickpea Salad with Lemon and Parmesan
Adapted from Orangette

1 15-ounce can Goya chickpeas, drained and rinsed
1 tsp. fresh lemon juice (It's worth squeezing a lemon for this)
1 ½ tsp. extra virgin olive oil
A pinch of salt
¼ cup loosely packed shredded Parmigiano Reggiano

Combine all ingredients in a bowl, and stir to mix. Serve immediately or chill before serving