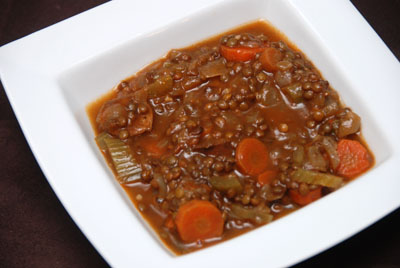 I used to hate extra tomato paste… until I found something delicious to do with it!
So yesterday I made turkey meat loaf that called for 2 teaspoons of tomato paste. I hate using just a tiny bit of tomato paste. I never know what to do with the rest. I've tried freezing it, but it just got freezer-burned. I've also tried saving it in the refrigerator, but it always goes bad before I get around to using it. Yesterday I was in the mood to cook, so I searched the Food Network site for a recipe so I could use it up.
Yesterday was a cold day here in NY, so I searched for something comforting. I came across this recipe for Lentil Sausage Soup and boy was I happy that I did. It's by one of my favorite chefs, Ina Garten. It was incredibly delicious AND it used up all of the remaining tomato paste – hooray! Tonight my husband and I had big bowls for dinner with crusty rolls. It was a perfect, healthy dinner for a cold, cold night. The recipe makes a lot of soup, so you can freeze some, or have lots of leftovers.
While I'm writing, let me tell you a little bit about lentils. They're really high in nutritional value. They're small, but they pack a mighty nutritional punch being high in fiber and protein, and very low in fat. They are also high in magnesium, folate and iron. Health Magazine has called lentils one of the five healthiest foods. Try them, they'll rock your world.
In many of the recipes that I have tried with lentils, I have used either red or green lentils, whatever I had on hand, despite what the recipe called for. This recipe calls for french lentils. I had never used them before, but I had to run to the store to pick up some celery, so I decided to try them. They're peppery and they add a nice bite to the soup.
French Lentil Soup
Adapted from Barefoot in Paris by Ina Garten

1 pound French green lentils (recommended: du Puy)
1/4 cup olive oil, plus extra for serving
8 cups diced yellow onions (5 or 6 large)
1 tablespoon minced garlic (2 large cloves)
1 tablespoon kosher salt
1 1/2 teaspoons freshly ground black pepper
1 tablespoon minced fresh thyme leaves
1 teaspoon ground cumin
3 cups medium diced celery (8 stalks)
3 cups medium diced carrots (4 to 6 carrots)
3 quarts chicken broth
1/4 cup tomato paste
1 pound chicken andouille sausage, sliced 1/3-inch thick
2 tablespoons dry red wine or red wine vinegar
Freshly grated Parmesan, for serving


In a large bowl, cover the lentils with boiling water and allow to sit for 15 minutes. Drain. In a large stockpot over medium heat, heat the olive oil and saute the onions, garlic, salt, pepper, thyme, and cumin for 20 minutes, or until the vegetables are translucent and tender. Add the celery and carrots and saute for another 10 minutes. Add the chicken stock, tomato paste, and drained lentils, cover, and bring to a boil. Reduce the heat and simmer uncovered for 1 hour, or until the lentils are cooked through and tender. Check the seasonings. Add the sausage and red wine and simmer until the sausage is hot. Serve drizzled with olive oil and sprinkled with grated Parmesan.