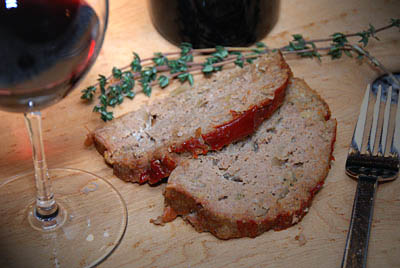 One of the things I loved growing up was to walk into the house on a cold winter's day to smell something delicious cooking in the oven. My mom is an excellent cook and I was spoiled by the great dinners that she prepared and their associated great smells. I loved just about everything that my mom cooked with the exception of one thing – lamb kidneys fried in bacon fat. That was one smell (and taste) that I didn't like, but she made them because she loved them and it was something that she was served growing up. I wonder what I make today that my boys will tell me they hate in later years. Hopefully it's not my recipe for turkey meatloaf. It's a staple for us in the winter time. I love to make it, it's really delicious and it makes your house smell great when it's cooking. The recipe is from The Barefoot Contessa Cookbook.
This recipe calls for five pounds of ground turkey and it either makes one huge loaf or two smaller loaves. I always make one loaf to cook immediately and one to freeze. When I freeze it, I wrap it in plastic wrap, then I wrap it in aluminum foil. The frozen loaf is nice to have on hand for the nights when you want something easy and delicious for dinner but don't have any time.
This meat loaf is great in sandwiches. Toast a couple of pieces of whole wheat bread, cover one piece with mayonnaise and pile on the turkey meat loaf. Yum! Meat loaf sandwiches were one of my favorites growing up.
Turkey Meat Loaf
Adapted from The Barefoot Contessa Cookbook

3 cups chopped yellow onions (2 large onions)
2 tablespoons good olive oil
2 teaspoons kosher salt
1 teaspoon freshly ground black pepper
1 teaspoon fresh thyme leaves (It's worth buying or growing some fresh thyme for this recipe)
1/3 cup Worcestershire sauce
3/4 cup chicken stock
2 teaspoons tomato paste
5 pounds ground turkey (NOT ground turkey breast)*
1 1/2 cups plain dry bread crumbs
3 extra-large eggs, beaten
3/4 cup ketchup

Preheat oven to 325 degrees F.

In a medium saute pan, over medium-low heat, cook the onions, olive oil, salt, pepper, and thyme until translucent, but not browned, approximately 15 minutes. Add the Worcestershire sauce, chicken stock, and tomato paste and mix well. Allow to cool.

Combine the ground turkey, bread crumbs, eggs, and onion mixture in a large bowl. Mix well and shape by hand into two rectangular loaves. Put one on an ungreased sheet pan and wrap the other for freezing.

Spread ketchup evenly on top of the loaf you are going to bake. Bake for 1 1/2 hours until the internal temperature is 160 degrees F. and the meatloaf is cooked through. (A separate pan of hot water in the oven on the rack under the meatloaf will keep the top from cracking.) Serve hot, at room temperature, or cold in a sandwich.

*I do not recommend using ground turkey breast. I recommend ground turkey which is a mixture of light and dark meat. It has more fat than ground turkey breast and it makes a much better turkey meat loaf. I find that ground turkey breast makes the recipe dry.