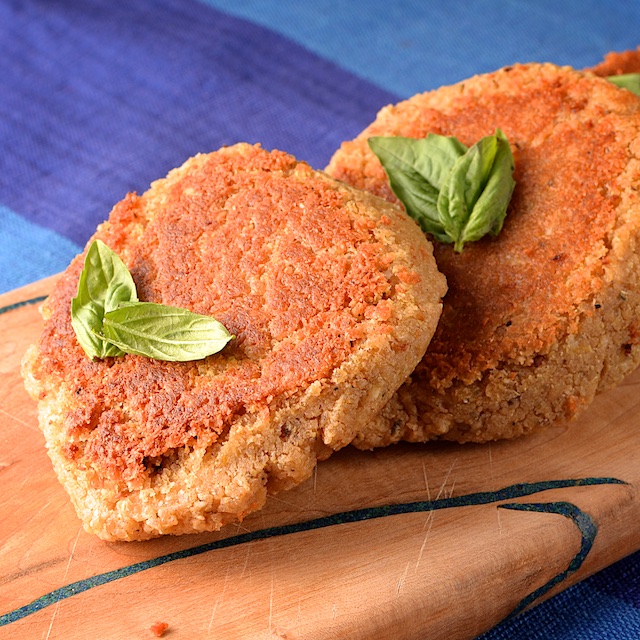 I know I've mentioned this several times before, but I LOVE Fine Cooking magazine. I receive a subscription every year for Christmas from my parents. I end up trying several recipes from each issue and I have many magazines on my cookbook shelf with dog eared pages, waiting for me to have time to try their recipes.
I love quinoa burgers and I also love bean burgers, so the combination of both in a single burger was very appealing to me. I'm also always trying to find something that's appealing to my vegetarian son (the vegetarian who doesn't really like vegetables.) I figured he might like these because they look like burgers, yet there's no meat in them. Well, no luck. He's always willing to taste things, but he never seems to like any of them. Hopefully one day…
These come together quickly and unlike some other vegetarian burgers, these don't need to chill prior to cooking, so once you mix them up, you can form them into patties and cook them. This recipe offers some flexibility. For instance, I didn't have any pine nuts, so I substituted cashews. I'm also not a huge fan of fennel seeds, so I omitted them.
Don't forget to rinse your quinoa before cooking it. If you rinse it prior to cooking, it's natural coating, called saponin, will be washed away. Some think that saponin can taste either bitter or soapy, so it's a good idea to rinse it away before cooking.
I served these burgers on brioche rolls, and they were delicious. There's a slight hint of lemon in the burgers which gives them a light and lovely taste. As with many of the recipes I've posted recently, if you have extra burgers, they heat up very well and make great leftovers. I had one for lunch and a minute in the microwave was all it needed.
Quinoa and White Bean Burgers
Recipe from Fine Cooking Magazine, Issue 134

1/2 cup red or white quinoa, rinsed and drained
1 15-oz. can white beans, drained and rinsed
1/3 cup rolled oats
1/4 cup pine nuts
1 Tablespoon Dijon mustard
1 Tablespoon Worcestershire sauce
2 teaspoons fresh thyme leaves
1 teaspoon fennel seeds
1 teaspoon finely grated lemon zest
Kosher salt and freshly ground black pepper
3 Tablespoons olive oil

Bring a 3-quart saucepan of water to a boil. Add the quinoa, reduce the heat to medium, and cook, stirring occasionally, until tender, about 12 minutes. Drain and rinse thoroughly with cool water. Drain well, pressing against the strainer with the back of a wooden spoon to extract as much water as possible.

Transfer to a food processor and add the beans, oats, pine nuts, mustard, Worcestershire, thyme, fennel seeds, lemon zest, 1 teaspoon of salt, and 1/2 teaspoon of pepper. Process to a thick, smooth paste. With wet hands, form the mixture into eight 1/2-inch-thick patties.

Heat the olive oil in a 12-inch nonstick skillet. Add the patties and cook, flipping once, until browned on both sides, ~8 minutes total. Serve hot.

Yield: 8 burgers

Seven years ago: Cinnamon Chocolate Chip Cookies

Print This Recipe