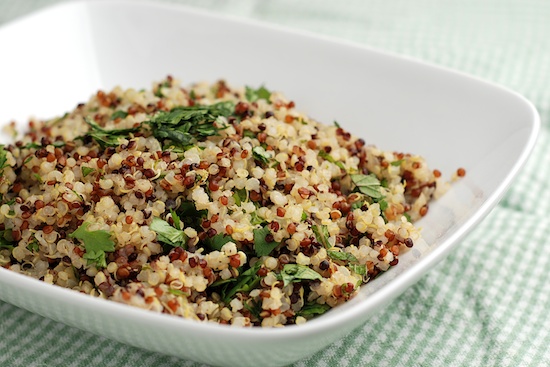 Fresh cilantro, mint and lime have to be three of my favorite summer flavors. Add them to quinoa and they make a tasty side-dish. At least I think so. I can't say my family agreed.
When I served this the other night, I expected that my husband and I would be the only ones to eat it. We actually were, but for some unknown reason, when I asked the boys to try it, three out of four agreed. The results were not entirely unexpected. I asked them all to rate the dish from 1 to 10 (10 being the best) and to describe it for me.
My husband gave it a 4 and described it as being virtuous. To my husband, this means that it tasted healthier than it did delicious. He also thought it tasted like the garden.
Son #1 gave it a 5 and described it as being tasteless. Tasteless?? It had more flavor than many dishes I make! The tastelessness was a plus for him. He actually said he kind of liked it.
Son #2 gave it a 2. He thought it was pretty terrible.
Son #3 gave it a 3 and said it had little flavor. Not sure what's up with my sons' taste buds.
Son #4 wouldn't go near it.
I was happy to eat several servings with dinner, and I LOVED it chilled for lunch the next day. I'll definitely make it again this summer, even if I have to eat it all myself.
Even though my sons didn't like the dish, and didn't eat more than a small spoonful, I'm grateful that they agreed to try it. I think it's a very tiny step in the right direction.
I didn't have a red onion on hand, so I used half a Vidalia onion.   I'm not a huge fan of raw onion in dishes, so I sauteed the diced onion in a little olive oil until it was softened.   I then added it to the quinoa.  It was delicious.
Quinoa with Cilantro, Mint and Lime
Recipe adapted from Tastespotting.com

3 cups cooked quinoa, cooled to room temperature (this is ~1 cup uncooked quinoa)
1/2 red onion, small dice
small handful cilantro (leaves only) chopped
small handful mint leaves, chopped
2 tablespoons very mild, light olive oil (or canola oil)
juice from one lime
zest from one lime
salt and pepper to taste

Toss everything together in a large bowl. Taste for seasoning. Adjust with additional lime juice, salt, and/or pepper.

Yield: 4 servings

One year ago: Hot, Buttered Cauliflower Puree
Two years ago: Brownie Buttons
Three years ago: Corn and Black Bean Salad with Basil-Lime Vinaigrette

Print This Recipe