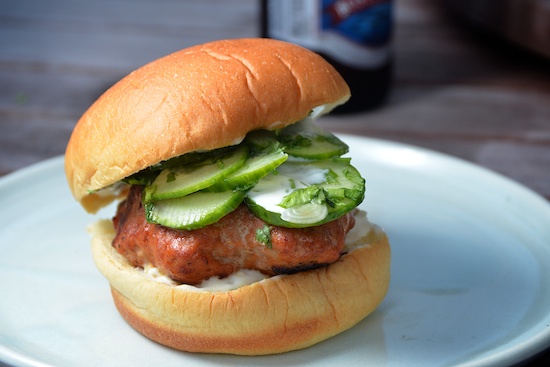 We arrived on Shelter Island yesterday early evening. It was gorgeous outside, the sun was shining and it was hot, but not too hot. I had a hankering to turn on the grill, but since it was getting late, I wanted to make something simple that wasn't going to take me until midnight to prepare. This is one of the two recipes I made. These burgers were outstanding. The other recipe I made was a fresh corn chowder. I thought it was OK, but not excellent, so you won't be seeing it on the blog. Unfortunately, my husband took a gorgeous photo of the chowder, but alas it will never be posted!
These burgers are full of flavor and very moist. The cucumber cilantro salad on top adds a nice crunch and some great flavor as well. The recipe calls for a tomato, but I didn't have one on hand so I skipped it. Don't skip the fresh lime zest and juice in the mayonnaise. It's a must.
I chose to make the cucumber salad before I put the burgers on the grill because turkey burgers can cook pretty quickly and thinly slicing cucumbers and a shallot can take a few minutes. I didn't want to risk burning the turkey burgers or having them sit around while I was making the salad.
All in all this was an incredibly easy and flavorful meal and one that will become a staple in our summer rotation. I actually started to write this post a couple of days ago, and since I started, I have made the burgers again. They were terrific once again.
The boys didn't go near these and I didn't push because the recipe only makes four burgers and with relatives around, we gobbled these up.

Thai Curry Turkey Burgers
Recipe from FineCooking.com

1-1/4 pound ground turkey (not ground turkey breast)
2 Tablespoons red or green Thai curry paste
Kosher salt and freshly ground black pepper
Vegetable oil, for the grill
1 medium lime
2/3 cup mayonnaise
3/4 cup thinly sliced seedless cucumber
1/4 cup fresh cilantro leaves
1 small shallot, thinly sliced
1 Tablespoon seasoned rice vinegar
4 hamburger buns
Sliced tomato, for serving

Prepare a medium gas or charcoal grill fire.

In a medium bowl, gently mix the turkey, curry paste, and 1/4 tsp. each salt and pepper with your hands just until blended. Form the mixture into four 1/2-inch-thick patties.

Oil the grill grate. Grill the burgers, flipping once, until an instant-read thermometer inserted into the centers of the burgers registers 165°F, 12 to 15 minutes total.

While the burgers cook, finely grate 1 tsp. zest from the lime, then squeeze the lime to yield 1 Tbs. juice. In a small bowl, combine the zest and juice, mayonnaise, and 1/4 tsp. salt. In another small bowl, toss the cucumber with the cilantro, shallot, and vinegar.

Toast the buns cut side down on the grill until browned and heated through, 1 to 2 minutes.

Spread the tops and bottoms of the buns with the mayonnaise. Serve the burgers in the buns, topped with a slice of tomato and the cucumber mixture.

Yield: 4 burgers

One year ago: Turkey Meatloaf with Feta and Sun-Dried Tomatoes
Two years ago: Cheese Quiche
Three years ago: Peanut Butter Cup BArs
Four years ago: Outrageous Brownies

Print This Recipe