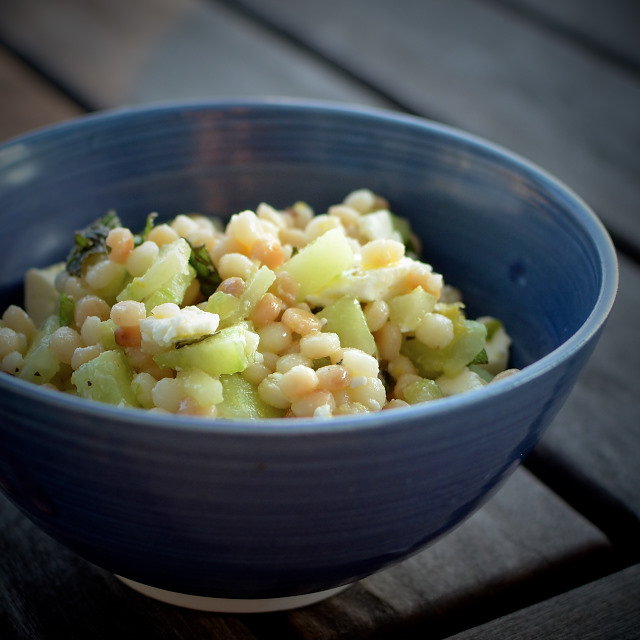 I'm sorry that I haven't posted in a while.  We had LOTS and LOTS of company this summer, and I made lots of new recipes, but never found the time to post them.   I have a number of recipes to share, so hopefully over the next week or so, I'll find time to post them all.
This Israeli  couscous salad is delicious.   The ingredients sounded rather plain and pedestrian to me, but when they're thrown together, I found that the whole was definitely greater than the sum of its  parts. I think that toasting the couscous first definitely brought out a lot of its flavor.
This salad is light and refreshing and definitely a great accompaniment to any type of grilled meat. I served it with these quinoa burgers, which I make all the time.
This summer I didn't have an herb garden, and it killed me every time I had to pay $3 for a small bunch of herbs. Next summer, I'm definitely going to get my herb garden going again.

Toasted Israeli Couscous Salad with Mint, Cucumber, and Feta
Recipe from Fine Cooking (my favorite cooking magazine)

Kosher salt
1 cup Israeli couscous
1 medium English cucumber, peeled and finely diced (2 cups)
1/2 cup coarsely chopped fresh spearmint or pineapple mint leaves; additional sprigs for garnish
1/4 cup extra-virgin olive oil
2 Tbs. fresh lemon juice; more as needed
1 tsp. finely grated lemon zest
Freshly ground black pepper
1 cup small-diced feta cheese

In a large saucepan, bring 2 quarts well-salted water to a boil.

Meanwhile, in a medium skillet over medium heat, toast the couscous, stirring frequently, until golden-brown, about 7 minutes.

Cook the couscous in the boiling water until tender, about 10 minutes. Drain and rinse under cold running water until cool. Pour the couscous into a large mixing bowl. Stir in the cucumber and mint.

In a small bowl, mix the oil, lemon juice and zest, 3/4 tsp. salt, and 1/4 tsp. pepper. Stir in the feta. Add the feta mixture to the couscous, season to taste with salt, pepper, and lemon juice, and mix well. Transfer to a serving bowl and garnish with the mint sprigs.

Yield: 4 – 6 servings as a side dish

One year ago: Yotam Ottolenghi's Sweet Corn Polenta with Eggplant Sauce
Two years ago: Soft Pretzel Nuggets
Three years ago: Frittata with Red Peppers and Peas
Four years ago: Chipotle Turkey Chili with Apples and Cheddar
Five years ago: Mexican Wedding Cookies
Six years ago: Lemon Mascarpone Mousse
Seven years ago: Chicken Salad with Apple and Basil

Print This Recipe