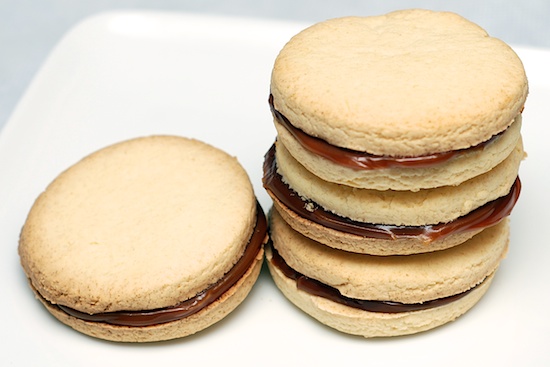 My boys loved these cookies, even my caramel-hating son. They're traditionally a South American cookie (although with variations they're a Spanish and an Arabic confection as well). The cookie batter has more corn starch in it than flour, which makes these cookies quite tender. They are like shortbread in a way – they don't spread when you cook them. When you cook them, you will get a lightly browned version of exactly what you put in the oven.
You want to make sure that you don't overcook these, because they go from being very pale to almost burned very, very quickly. 12 minutes in the oven was just about perfect for mine, but I started watching them carefully at 10 minutes because my friend Valeria warned me about their ability to burn quickly.
These cookies have a nice hint of lemon to them which I really enjoyed.
Alfajores
Recipe from Saveur.com

1 2/3 cups cornstarch
1 1/4 cups flour
1 tsp. baking powder
2/3 cup sugar
10 tbsp. unsalted butter, softened
1 tbsp. cognac or brandy
1/2 tsp. lemon zest
4 egg yolks
Canned or jarred dulce de leche, for filling cookies

Heat oven to 350°. In a bowl, sift together cornstarch, flour, and baking powder; set aside. In a mixer fitted with a paddle, beat together sugar and butter until fluffy. Add cognac and zest; beat. Add yolks one at a time; beat. Add dry ingredients; mix. Transfer dough to a floured surface, knead briefly; divide into 3 pieces. Working with 1 dough piece at a time, roll dough to 1/4″ thickness. Using a 2 1/2″ round cookie cutter, cut out cookies; transfer to parchment paper—lined baking sheets, spaced 1″ apart. Re-roll scraps and repeat. Bake until golden, 12–15 minutes. Let cool. Flip half the cookies over; top each with 1 heaping teaspoon of dulce de leche. Top with remaining cookies.

Yield: ~20 cookie sandwiches

One year ago: Pineapple and Meyer Lemon Sorbet
Two years ago: Peanut Butter Cookies
Three years ago: Chicken Piccata

Print This Recipe