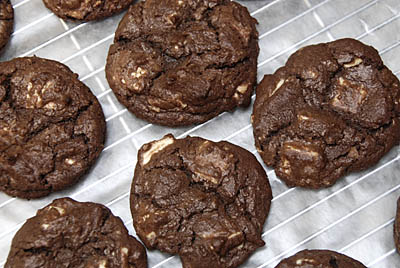 OK, this is one of my favorite cookies in the whole world. They're really decadent. They're also so rich that I can usually only eat one at a time (or sometimes maybe two.) If you serve them to friends, they'll keep coming back for more!
I think it's important to buy bars of good white chocolate for this recipe. The white chocolate chips that you can buy in a bag just don't cut it.
I hope you like this recipe as much as I do.
Chocolate White Chocolate Chunk Cookies
From Barefoot Contessa Parties!

1/2 pound unsalted butter at room temperature
1 cup light brown sugar, packed
1 cup granulated sugar
2 teaspoons pure vanilla extract
2 extra-large eggs at room temperature
2/3 cup good unsweetened cocoa
2 cups flour
1 teaspoon baking soda
1 teaspoon kosher salt
1 1/2 pounds good white chocolate, coarsely chopped

Preheat the oven to 350 degrees F. Cream the butter and both sugars until light and fluffy in the bowl of an electric mixer fitted with the paddle attachment. Add the vanilla, then the eggs, 1 at a time, and mix well. Add the cocoa and mix again. Sift together the flour, baking soda, and salt and add to the chocolate with the mixer on low speed until just combined. Fold in the chopped white chocolate.

Drop the dough on a baking sheet lined with parchment paper, using a 1 3/4-inch ice cream scoop or a rounded tablespoon. Dampen your hands and flatten the dough slightly. Bake for exactly 13 minutes (the cookies will seem underdone). Remove from the oven and let cool slightly on the pan, then transfer to a wire rack to cool completely.