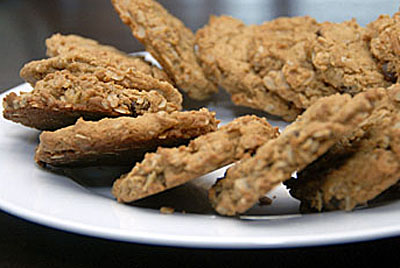 As you've probably figured out by now, I love to bake. Especially cookies. I have a number of favorite cookie recipes which I make over and over like my Cinnamon Chocolate Chip cookies and my Chocolate White Chocolate Chunk cookies, but I'm always on the lookout for new delicious recipes.
I came across this one the other day on the internet. With the addition of white chocolate I thought the recipe was really good. I like the mixture of spices – they add a lot to the cookies.
Ask me if the boys would eat these. I thought they'd certainly eat them. They're cookies for heaven's sake! Believe it or not, only two of the four would eat them. The cranberries threw half of them. All of the adults that tried them really loved them.
Oatmeal Cranberry Cookies
Adapted from recipe by Beth Setrakian

1 cup unsalted butter
3/4 cup granulated sugar
3/4 cup brown sugar
2 eggs
1 teaspoon pure vanilla extract
1 1/2 cups flour
1/2 teaspoon salt
1 teaspoon baking soda
1 teaspoon cinnamon
1/2 teaspoon nutmeg
1/4 teaspoon cardamon
3 cups rolled oats
1 cup dried cranberries
1 bar of white chocolate (3.5 – 4 oz.), chopped (optional)
Preheat oven to 350 degrees. Cream butter and sugars until fluffy. Add eggs and vanilla. Combine dry ingredients. Add to butter mixture and stir until well blended. Add dried cranberries and chopped white chocolate (if you're using it). Drop by teaspoonful (or by ice cream scoop) onto a parchment covered baking sheet. Bake about 10 to 12 minutes, or until lightly golden. Cool.