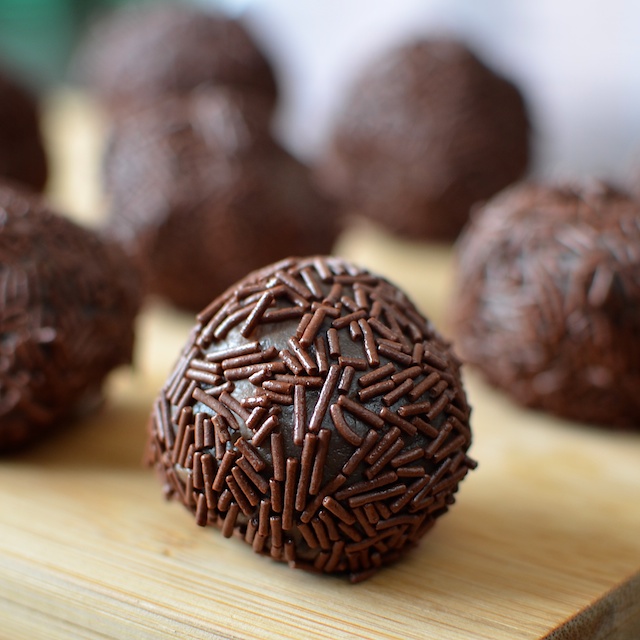 I have had my eye on this recipe for a while now and I decided to make it when I found real chocolate sprinkles (or jimmies as I used to call them when I lived in Boston). Most of the chocolate sprinkles you find in places like supermarkets are made of wax and food coloring. I'm not sure they have any real chocolate in them. If you want real chocolate in your sprinkles, look for chocolate vermicelli. I found mine on Amazon.
These fudge balls are currently one of my favorite desserts. I'm a sucker for chocolate sprinkles (the real ones) and these little balls remind me more of a chocolate caramel than traditional fudge. They are incredibly delicious, but a little dangerous too because it's hard to eat just one.
When you make these, plan to stay right next to the stove for at least 20 minutes. This is a very hands-on recipe. Once you start to cook the ingredients, you need to stir the fudgy mixture for at least sixteen minutes, until it gets quite thick. If you leave the stove, the chocolate at the bottom of the pan will burn.
Store these fudge balls in the refrigerator until you're ready to serve them. They're best chilled. Did the boys like these?  You bet.
Brigadeiros (Brazilian Fudge Balls)
Recipe from Saveur.com

4 Tablespoons salted butter
2 Tablespoons heavy cream
2 (14 oz.) cans sweetened condensed milk
3 oz. semisweet chocolate, finely chopped
1 Tablespoon unsweetened cocoa powder, sifted
1 cup chocolate sprinkles

Bring butter, cream, and milk to a boil in a 4-qt. saucepan over medium heat. Add chocolate and sifted cocoa powder, and reduce heat to low; cook, stirring constantly, until mixture is the consistency of a dense, fudgy batter, about 16 minutes. Transfer to a bowl; let cool. Chill until set, at least 4 hours.

Using a small ice cream scoop or a tablespoon, portion out fudge and roll into balls. Roll each ball in chocolate sprinkles until evenly coated. Chill until ready to serve.

Yield: About 24, but this depends upon what size you make them

One year ago: Braised Coconut Spinach with Chickpeas and Lemon
Two years ago: Peanut Butter Cup Blondies
Three years ago: Caramels
Four years ago: Yucatan Pork Tenderloin
Five years ago: Carole's Country Style Spareribs
Six years ago: Buttermilk Bran Muffins

Print This Recipe