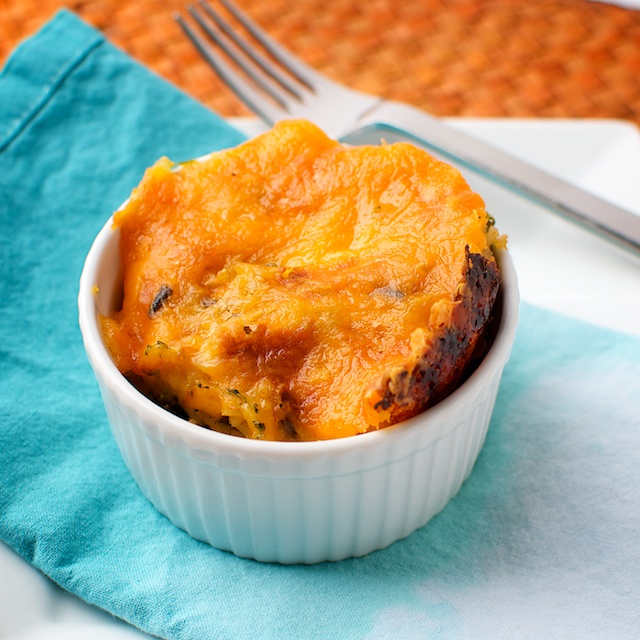 This winter we're having in New York is seemingly endless. We're approaching the end of March, and we're expecting snow tonight. It's crazy.
There are many nice things about cold weather, but one of my favorites is a nice, hearty, warm casserole. I made this a couple of days ago when it was quite cold outside. I wasn't sure how it was going to turn out, but I was pleasantly surprised. It was delicious! Since the boys won't go near it with a 10-foot pole, my husband and I have eaten it as leftovers for a couple of days now. It makes a great lunch. It's as good the next day as it is when you first make it.
This recipe calls for a bunch of broccoli. When using stems from a whole head of broccoli, you have to peel the stems. Instead of peeling and chopping the stems, I bought a couple of bags of fresh broccoli florets, which cut down the recipe's prep time a bit.
My husband LOVED this recipe. This is now one of his favorite side-dishes. This is comfort food at its best – perfect for a cold winter's night.
Broccoli, Cheddar and Wild Rice Casserole
Recipe from SmittenKitchen.com


3 tablespoons butter
1/2 large onion, diced
Salt
2/3 cup uncooked wild rice blend, rinsed
1 pound broccoli
1 garlic clove, minced or pressed
1/4 teaspoon ground mustard powder or 1/2 teaspoon smooth Dijon
Pinch of cayenne pepper
2 tablespoons all-purpose flour
1 cup whole milk
2/3 cup low-sodium vegetable or chicken broth
8 ounces cheddar cheese, coarsely grated
Freshly ground black pepper

Heat 1 tablespoon butter in a medium saucepan over medium heat. Once melted, add onion and saute until translucent, about 5 minutes. Add rice to onion and cook for 1 minute, then add 1 1/3 cups water and a few pinches of salt. Bring mixture to a simmer, then reduce heat to lowest temperature and cook with the lid on for about 50 minutes (or whatever amount of time is suggested on your package of rice). Watch the rice. You may need to add a little more water, like I did.

Preheat oven to 400 degrees.

Peel broccoli stems and dice them into large chunks. Cut florets into 1-inch pieces. Cook in boiling, well-salted water for 2 to 3 minutes, then drain.

You can use this same pan to make the cheese sauce. Melt remaining 2 tablespoons butter in pan over medium heat. Once melted, add the mustard powder (if using), a pinch of cayenne and garlic and let sizzle for 1 minute. Add flour and whisk until combined, cooking the butter-flour mixture for 1 to 2 minutes. Slowly drizzle in milk, whisking constantly, then broth. Bring to a simmer and cook mixture at a simmer, stirring the whole time, until sauce is slightly thickened, about 5 minutes. Stir in smooth Dijon mustard if you didn't use mustard powder.

Remove pan from heat and stir in 1/3 of grated cheese until melted. Season generously with salt and pepper.

Combine cooked wild rice blend and broccoli in a 2-quart baking dish or a 9-inch oven-safe skillet. Pour cheese sauce over and gently nudge to ensure all pieces get some sauce. Sprinkle remaining cheese over top. Bake casserole for 10 to 15 minutes, until the sauce is bubbly, then run mixture under the broiler until cheese is lightly browned on top.

Yield: ~6 servings

One year ago: Meyer Lemon Gelato
Two years ago: Sweet Potato and Quinoa Salad
Three years ago: Alfajores
Four years ago: Pineapple and Meyer Lemon Sorbet
Five years ago: Peanut Butter Cookies
Six years ago: Smashed Sweet Potatoes

Print This Recipe