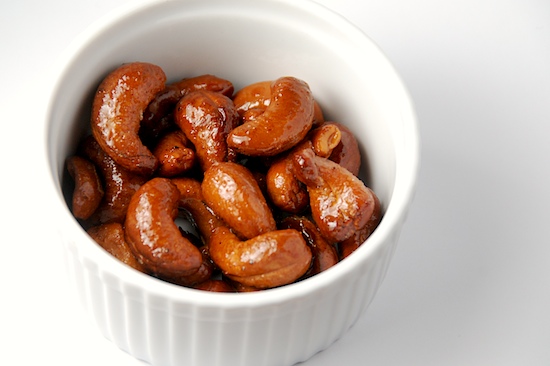 I was freezing cold on Friday morning, and it was an overcast day.   I had a lot of laundry to fold and I thought it would be nice if the oven were on, baking something that made the apartment smell good.   I made a batch of these brownies for the boys, then I made a batch of these nuts. Boy did the apartment smell great when the nuts were cooking. That garam masala has a nice fragrance.
These nuts are fairly easy to make, and they end up having a nice hard, shiny glaze on them that's not too spicy and not too sweet. The trick is not to burn the nuts! I had to watch them very carefully when they were in the oven, and I made sure that I stirred them a couple of times, lest they burn where the nuts rest on the pan. A couple of mine got too dark for my taste, but the boys didn't seem to mind them at all.
I received lots of compliments on these nuts, but I must admit that although I liked them for a change, these are still my favorite.
Caramelized Spiced Nuts
From How to Cook Everything by Mark Bittman

2 tablespoons peanut or neutral oil, like grapeseed or corn (I used Pam (spray oil) and it worked just fine)
2 cups sugar
2 teaspoons garam masala
1/2 teaspoon cayenne
1 teaspoon salt
2 cups (about 1 pound) mixed unsalted shelled nuts (I had cashews on hand so that's what I used)

Heat the oven to 450°F. Grease a baking sheet with the oil. Put a wide pot or deep skillet over high heat and add 2 cups water and the sugar. Bring to a boil and stir in the spices, salt, and nuts. Reduce the heat to medium and cook, stirring frequently, until the liquid is reduced to a syrup, 5 to 10 minutes.

Turn the heat to low and remove the nuts with a slotted spoon, letting the excess syrup drain off a bit and then spreading the nuts on the baking sheet (be sure to turn off the burner when you've finished).

Roast the nuts for 5 – 10 minutes, tossing once or twice with a spatula. Watch the nuts carefully so they don't burn. They can burn very easily in the oven. Remove from the oven and let cool (the sugar coating will be very hot, so resist sampling for a few minutes!); the sugar coating will harden as the nuts cool. Serve or store in an airtight container at room temperature for 2 or 3 days.

Yield: 6 – 8 servings

Print This Recipe