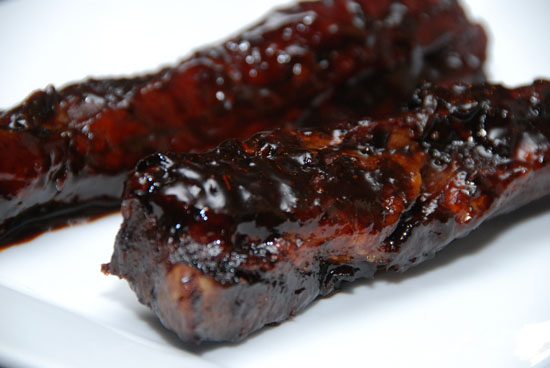 This is a recipe that I grew up with.  My mom cut the original recipe out of the Long Island Press in 1962.   The Long Island Press was our daily newspaper until it went out of business in 1977.   This recipe with my mother's modifications was part of her regular dinner rotation and it was one of my favorites.   I grew to like it even more as I got older.   This is one recipe that I'm happy my sons don't like – all the more for me!    Unfortunately I can't make this as often as I'd like because I have a hard time finding bone-in country-style spare ribs in the city.   I can often find them boneless, but the recipe is much better made with ribs on the bone.   As my grandmother used to say, the meat closest to the bone is always the sweetest.
When I was getting ready to write this post, I learned a little bit about the anatomy of a pig.   The first thing I learned is that 'country style ribs' are not actually ribs at all.    They are cut from the blade end of the loin, right behind the upper part of the pork shoulder.  They're more similar to fatty pork chops than ribs.  Although fatty, it's very easy to separate the fat from the meat, and the meat itself is very tender.
Living in a New York apartment, I love recipes that don't involve searing meat.   We don't have an exhaust fan that vents to the outside, so our apartment immediately fills with smoke whenever I try to sear anything.    This recipe is quick and easy and involves baking the meat, with the oven doing most of the work.    You bake the meat for a while, pour off the liquid, cover the meat with the sauce and bake again.  It couldn't be more simple.   I hope you like the recipe – it's perfect for a weekday meal.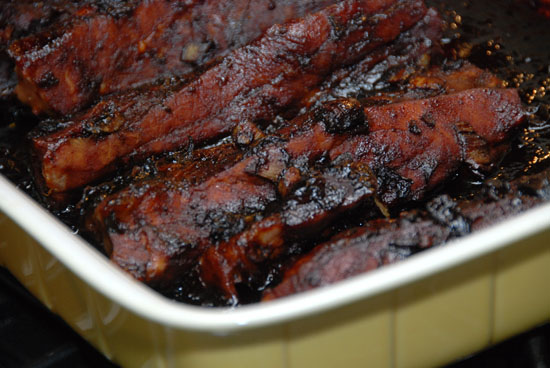 Carole's Country Style Spare Ribs
Recipe by Carole Hess (originally from the Long Island Press, 1962)

1/2 cup light molasses
1/2 cup ketchup
1/2 cup chopped onions
1 clove garlic, minced
3 whole cloves
1/4 cup orange juice
1 tablespoon. vinegar
1/2 teaspoon mustard
1/4 teaspoon pepper
1/2 teaspoon Worcestershire sauce
1/4 teaspoon Tabasco sauce
1 teaspoon Kitchen Bouquet or Gravy Master
2 -3 pounds country-style spare ribs

Preheat oven to 325 degrees.

Spread 2 – 3 lbs. country-style spare ribs in a large glass baking dish (13×9″).    Cover the glass dish tightly with aluminum foil.   Bake at 325 degrees for 1 hour.   Discard pan juices.

Meanwhile, combine all of the sauce ingredients (first 12 ingredients above)  into a saucepan.    Simmer for 5 minutes only.

Once the pan juices have been discarded from the meat, cover the spare ribs with the sauce and bake uncovered for 15 – 20 minutes.

Serves 4.