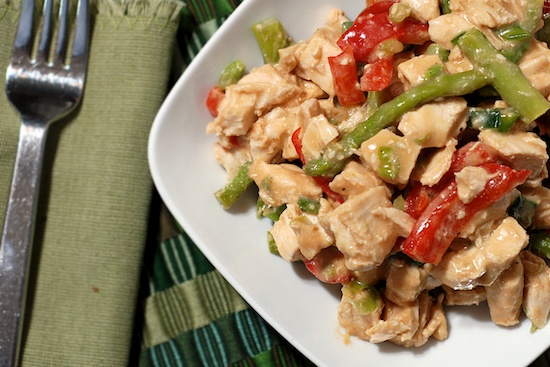 As I've mentioned before, I love recipes by Ina Garten and this one is no exception. It's a very different take on chicken salad. The dressing has a nice Asian flavor. I have made the salad a couple of times now, and this last time I used hot chili sesame oil. It gave the dressing some nice heat. Ina uses a lot more salt than I do. The original recipe called for 2 teaspoons of Kosher salt. I suggest starting with 1/2 teaspoon. Taste the dressing and add more salt if you feel it's necessary. There's nothing like a dish that's too salty.
This recipe comes together fairly quickly. You can toss the chicken in the oven, and while it's cooking, make the dressing and chop the peppers and blanch the asparagus. By the time the chicken is done, the rest of the recipe will be ready. This is really a nice change from the traditional chicken salad with mayonnaise and celery.
This salad is great as a leftover the next day.
Chinese Chicken Salad
Adapted slightly from recipe in Barefoot Contessa Parties! by Ina Garten

8 boneless chicken breasts (8 cutlets)
Good olive oil
Kosher salt
Freshly ground black pepper
1/2 pound asparagus, ends removed, and cut in thirds diagonally
1 red bell pepper, cored and seeded
2 scallions (white and green parts), sliced diagonally
1 tablespoon white sesame seeds, toasted

For the dressing:
1/2 cup vegetable oil
1/4 cup good apple cider vinegar
3 tablespoons soy sauce
1 1/2 tablespoons dark sesame oil
1/2 tablespoon honey
1 clove garlic, minced
1/2 teaspoon peeled, grated fresh ginger
1/2 tablespoon sesame seeds, toasted
1/4 cup smooth peanut butter
1/2 teaspoon kosher salt or more to taste
1/2 teaspoon freshly ground black pepper

Preheat the oven to 350 degrees F.

Oil a rimmed cookie sheet. Place the chicken breasts on it. Sprinkle them with salt and pepper. Bake for 25 – 30 minutes or until the chicken is cooked. Cool the chicken and chop it into bite-sized pieces.

Blanch the asparagus in a pot of boiling salted water for 3 to 5 minutes until crisp-tender. Plunge into ice water to stop the cooking. Drain. Cut the peppers into thin strips about the length of the asparagus pieces. Combine the cut chicken, asparagus, and peppers in a large bowl.

Whisk together all of the ingredients for the dressing and pour over the chicken and vegetables. Add the scallions and sesame seeds and season to taste. Serve cold or at room temperature.

Yield: 10 – 12 servings

One year ago: Ultimate Banana Bread
Two years ago: Mojitos
Three years ago: Crispy Southwestern Baked Chicken

Print This Recipe