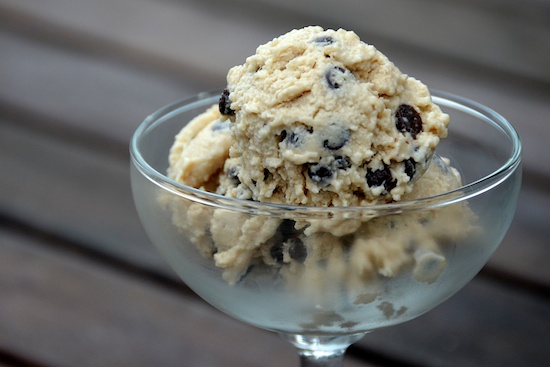 If you are a fan of raw cookie dough, this is for you. If you don't like raw cookie dough, you can stop reading right here. I guarantee you'll hate this. Aunt Sylvia did.
I think I've mentioned before that my old roommate Lisa and I used to buy rolls of cookie dough, put it in the freezer and eat it raw. We loved it. At one dinner party we served it as a base for an ice cream sundae. It was delicious.
This "frozen yogurt" is more like frozen cookie dough than frozen yogurt. You start with a base of cookie dough sans eggs, then mix in a cup of vanilla yogurt. I used Greek yogurt, so my final product had a bit of a yogurty tang to it. This "frozen yogurt" doesn't have the consistency of ice cream or frozen yogurt. It has the consistency of frozen cookie dough. If you leave it sitting out, it doesn't melt, it just gets softer. It maintains its structural integrity.
You can't eat too much of this in one sitting. It's quite rich and it fills you up quickly, unless you're a 10-year old boy, then you can apparently eat it all night. My boys didn't do this, but they claimed to be able to. I don't typically let my boys eat raw cookie dough because of the risk of salmonella from the raw eggs. I gave them a taste of this dough before the yogurt was added, because it doesn't contain eggs. What I didn't realize though is that even without eggs, or with pasteurized eggs, there's another danger in raw cookie dough and believe it or not, raw flour was the culprit! Who knew?? You can read about the 2009 food poisoning outbreak here.
So, if you like raw cookie dough, see what you think of this. I really love it, but I fear it's an acquired taste.
Chocolate Chip Cookie Dough Frozen Yogurt
Recipe found on TastyKitchen.com

1/2 cups butter, Softened
1/2 cup light brown sugar (or dark if you have it)
1/4 cup granulated sugar
2 teaspoons vanilla extract
1 cup all-purpose flour
1/4 teaspoon baking soda
1/4 teaspoon salt
3/4 cup mini chocolate chips
1 cup vanilla yogurt

Cream the butter and sugars together. Mix in vanilla extract. Mix in the flour, baking soda and salt. Stir in the chocolate chips. Finally, stir in the yogurt. Put the mixture in a covered container and freeze overnight.

Yield: ~2 cups of frozen yogurt

One year ago: Bouchon Bakery's 'Nutter Butter' Cookies
Two years ago: Eggplant Gratin
Three years ago: Fresh Corn Tomato Salad

Print This Recipe