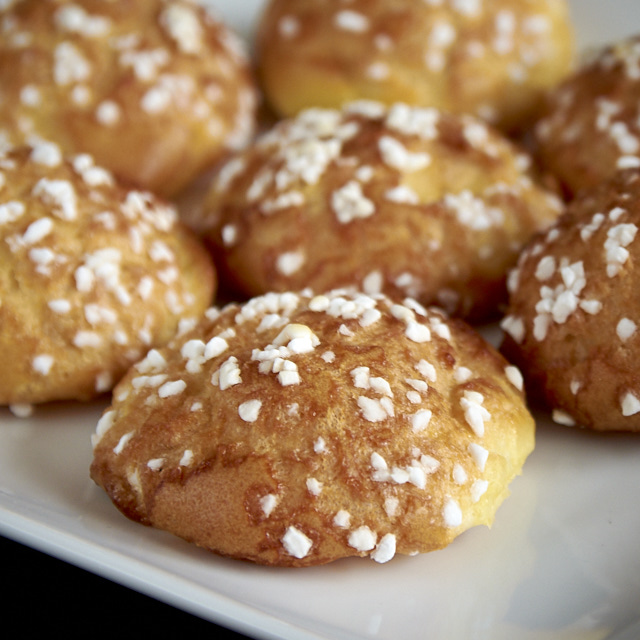 If you're a snacker, these little puffs (also known as French cream puffs) are a perfect afternoon snack. Have you ever had a Big Dutch Baby for breakfast? These little French puffs are like mini, bite-sized Dutch babies. They're not terribly sweet, they're actually slightly eggy, but delicious.

My boys inhaled all of these within an hour.

The recipe calls for pearled sugar. It's the stuff that looks like pretzel salt in the photo, but it's actually big pieces of sugar and it's delicious on this recipe. You can find it on Amazon and other places.




Chouquettes – French Cream Puffs
Recipe from David Liebovitz

1 cup (250ml) water
1/2 teaspoon salt
2 teaspoons sugar
6 tablespoons (90g) unsalted butter, cut into small chunks
1 cup (135g) flour
4 large eggs, whisked, at room temperature

Glaze: 1 egg yolk, mixed with 1 teaspoon milk
Pearl or Crystal sugar

Preheat the oven to 425°F. Line a baking sheet with parchment paper or a silicone baking mat.

Heat the water, salt, sugar, and butter in a small saucepan, stirring, until the butter is melted. Remove from heat and pour all the flour in at once. Put the pan back on the heat and stir rapidly until the mixture is smooth and pulls away from the sides of the pan.

Allow dough to cool for two minutes, then briskly beat in the eggs, pouring in a quarter of the eggs at a time, until smooth and shiny.

Using two spoons, or a small ice cream scoop, scoop up a mound of dough, roughly the size of an unshelled walnut, and scrape it off with the other spoon onto the baking sheet. Alternatively, you can also use a pastry bag fitted with a plain 1/2-inch tip and pipe them.

Place the mounds evenly-spaced apart on the baking sheet(s). Brush the top of each mound with some of the egg glaze then press pearl sugar crystals over the top and sides of each mound. Use a lot of suger. Once the puffs expand , you'll be happy that you used extra suger.

Bake the cream puffs until puffed and well-browned, about 25 to 30 minutes. If they get too dark midway through baking, lower the heat of the oven to 375ºF (190ºC) and continue baking.(If you want to make them crispier, you can poke a hole in the side with a knife after you take them out of the oven to let the steam escape.)

Storage: The cream puffs are best eaten the same day they're made. Once cooled, they can be frozen in a ziploc freezer bag for up to a month. Defrost at room temperature, then warm briefly on a baking sheet in a moderate oven, until crisp.

Yield: ~25 puffs


One year ago: Delicious Lemon Loaf
Two years ago: Sweet, Salty, Spicy Party Nuts
Three years ago: Oatmeal Scotchies
Four years ago: Coconut Chocolate Chip Magic Granola Bars
Five years ago: Double Chocolate Banana Bread
Six years ago: Pumpkin Cake Doughnuts
Seven years ago: Ricotta Gnocchi
Eight years ago: Baja-Style Fish Hand Pies
Nine years ago: Chicken, Ham and Swiss Roulades
Ten years ago: Berry Sorbet
Eleven years ago: Sweet Corn Muffins



Print This Recipe