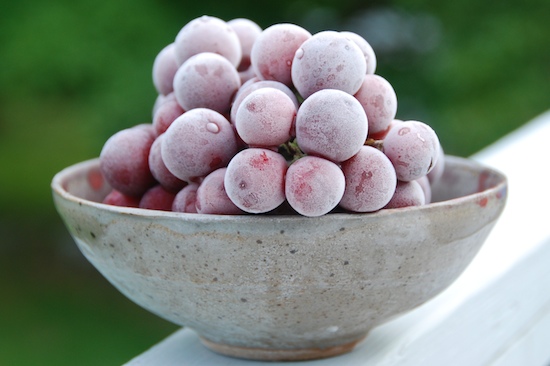 Frozen grapes are one of my favorite summertime treats.   Actually, I love them year round, but they're particularly refreshing on a hot summer afternoon.
I love a good bowl of ice cream for dessert after dinner, but believe it or not, my sweet tooth can be satisfied by eating a pile of these grapes instead.   If you love ice cream as much as I do, you probably don't believe me, but you should give it a shot.    They're much healthier than ice cream, and really can be as satisfying.    I've been known to eat ice cream until I feel sick.   It's hard to do that with a bowl of frozen grapes.    You can't eat them nearly as quickly as unfrozen grapes, and each one is like a little Italian ice.   Yum!
Frozen Grapes

Bunch of red seedless grapes

Rinse the grapes.   If your bunch of grapes is particularly large, cut it into smaller bunches for individual servings.  Put rinsed grapes into a bowl.   Put the bowl in the freezer for several hours. Eat and enjoy!

Print This Recipe