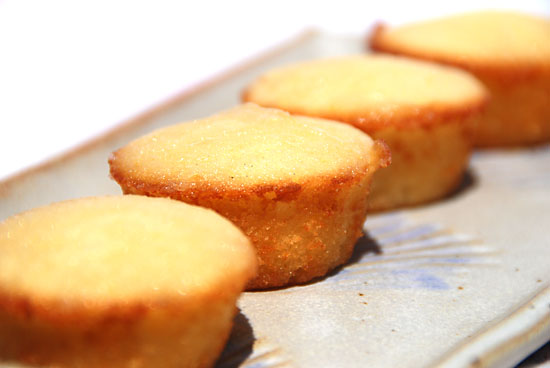 This recipe comes from the Williams Sonoma website. Their recipe is for lemon bread, but I'm on Shelter Island without a loaf pan, so I made the batter, poured it into greased mini-muffin pans and voila… lemon muffins. These really pack a lemony punch. I found them to be fairly tart, but I like lemony things, so I thought they were very good. The recipe made 30 mini-muffins, and within 10 minutes they were all gone. No exaggeration. We do have guests visiting who helped devour them. Three of my four boys gave them a thumbs-up. One thought they were too lemony and he gave them a distinct thumbs-down.
I made both platters that the muffins are on.   The one above is hard to see, but it has little blue seashells on it and it's one of my favorites.  The one below is a black plate in the shape of a triangle.   I'm fond of it too.   Several summers ago I took a wonderful hand-building pottery class at Shelter Island Pottery – my sister-in-law's pottery studio. There's a shop associated with the studio where she sells her beautiful work. If you're on Shelter Island you should definitely stop by.
When I made the muffins, I doubled the syrup recipe listed below, but I found that I made too much. Next time, I'll make a single batch as listed below and see how far I get. It might be just enough. I figured that the surface area of 30 mini-muffins was much greater than the surface area of a cake from a loaf pan which is why I started out by doubling it, but it didn't seem necessary.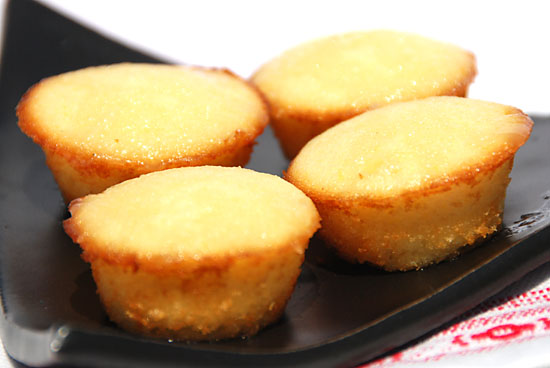 Lemon Muffins
Adapted from WilliamsSonoma.com

1 1/4 cups all-purpose flour
1 tsp. baking powder
1/2 tsp. salt
8 Tbs. (1 stick) unsalted butter, at room temperature
1 cup sugar
2 eggs
1/2 cup milk
Zest from 1 large lemon
Juice from 1 large lemon

For the lemon syrup:
1/4 cup sugar
3 Tbs. fresh lemon juice

Preheat the oven to 350ºF.  Grease 30 mini-muffin cups.   In a bowl, stir and toss together the flour, baking powder and salt. Set aside.

Mix the butter and sugar until creamy, 2 to 3 minutes.  Add the eggs one at a time, beating well after each addition.  Reduce the speed to low and add the flour mixture along with the milk, lemon juice and lemon zest. Beat until blended and smooth, stopping occasionally to scrape down the sides of the bowl.

Spoon the batter into the greased muffin tins and bake until a toothpick inserted into the center of the loaf comes out clean, about 18 minutes.

Meanwhile, make the lemon syrup.  In a small bowl, combine the sugar and lemon juice. Set aside, stirring occasionally; don't worry if the sugar does not dissolve completely.

Remove the muffins from the oven and transfer the pans to a wire rack.   Let them cool for about 15 minutes.  Remove the muffins from the tins and put them on a cookie sheet.    Using a fork,  gently poke the tops in several places. Stir the syrup, then slowly drizzle it over the hot muffins.   Eaten warm, they're delicious.

Yield:  ~30 mini-muffins

Print This Recipe