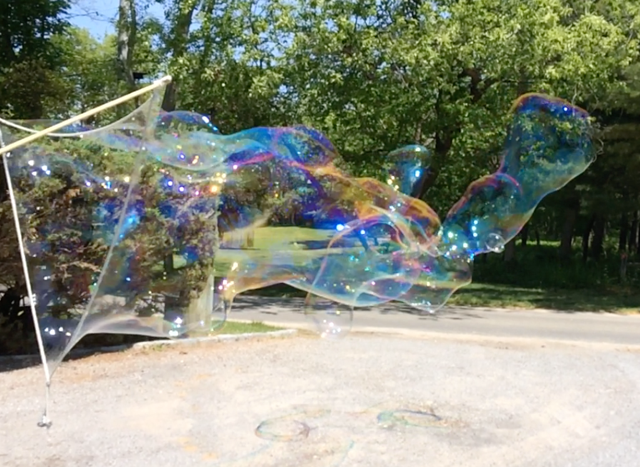 Today I'm going to digress from my typical food posts to share another recipe that my family uses quite a bit, especially during the summer. It's a recipe for giant bubbles.
One of my sons loves to create things, so he built himself a giant bubble wand using dowels, rope and a weight. When we mixed up the bubble recipe, he was able to consistently make bubbles like you see in the photo above. That bubble was made last summer. They're regularly, really huge.
This is a great outdoor project for kids. If they're old enough, they can make the bubble mixture themselves. If they like to build things, they can create a giant bubble wand. If they want a quick and easy way to make giant bubbles, they can use some string and a couple of plastic straws. The directions for that can be found here. If you don't happen to have glycerin around, you can usually find it at your local drug store, or you can order it from Amazon.
This is one of those recipes that has to sit for a while, so please plan ahead.   Ideally the mixture should sit for at least an hour or more before you use it.
When the weather is warm, there are always guys in Central Park making these giant bubbles and looking for tips and it looks like they make a pretty penny. When the boys are a little bigger, maybe we'll send them out to busk in the park so they can earn their keep.
Giant Bubbles

6 cups water
1/2 cup Dawn Dish Washing Liquid (ideally, original blue)
1/2 cup cornstarch
1 Tablespoon baking powder (NOT baking soda)
1 Tablespoon glycerin

Mix all of the ingredients in a large dishpan. When you're mixing the ingredients, try not to make too many bubbles, although you'll need to make some in order to make sure the cornstarch dissolves. Let the mixture sit for 1-3 hours.

After the mixture has had a chance to sit, go out and have fun making giant bubbles!

Yield: Lots of giant bubbles!

Two years ago: Ranch Oyster Crackers
Three years ago: Shrimp Stew with Coconut Milk, Tomatoes and Cilantro
Four years ago: Pumpkin Chocolate Chip Muffins
Five years ago: Five-Treasure Fried Rice
Six years ago: Cream Biscuits
Seven years ago: Cinnamon Muffins

Print This Recipe