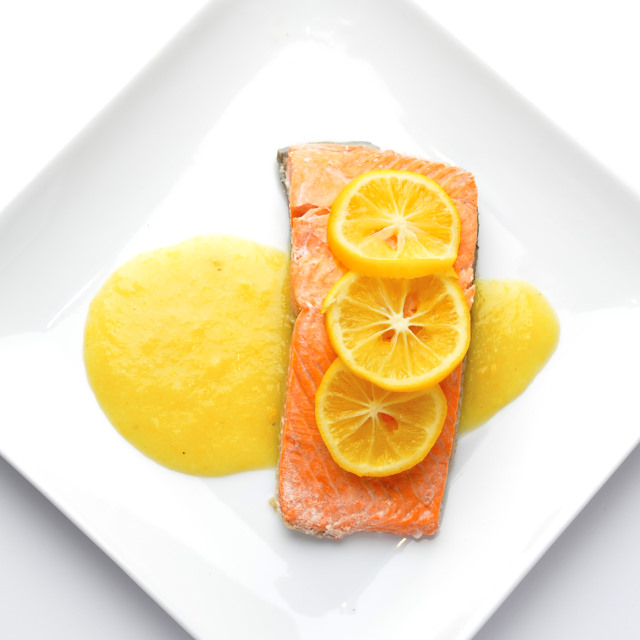 I receive a bunch of daily recipe emails from cooking websites and blogs. This recipe caught my eye the other day. The sauce looked so luscious, yet so simple. I've said this before, but sometimes the best recipes are the most basic and uncomplicated.
The main ingredient in this sauce is Meyer lemons. If you want to try this sauce and you live in the Northeast, try it now. We're right in the middle of Meyer lemon season. They are plentiful in stores right now, and I don't often see them at other times of the year. For those of you that don't know what a Meyer lemon is, it's a round lemon that is a cross between a lemon and a Mandarin orange. They tend to be sweeter than traditional lemons, with a thinner skin, a rounder shape and a deeper yellow/orange color. I love them.
I loved the consistency of this sauce; it was nice and thick, and I also loved that it was so easy to make. It was done in under 5 minutes and was a great and beautiful addition to the salmon I served for dinner. The sauce has the tang of a lemon and a hint of sweetness from the simple syrup. If you try this and you find that your sauce is too thick, add a little water and keep blending until you get the consistency you like.
I have a Vitamix blender, which was perfect for this task. It ground the whole lemons like they were made of butter. In a matter of minutes, you never would have known that lemons, skin and all were the starting point for the sauce.
If you want to make this for a large group, assume a lemon per person. That way you should have plenty of sauce, with maybe even a little left over.
This sauce was delicious on salmon, and I plan to use it with other types of fish as well.
The Simplest Lemon Sauce
Recipe adapted from Epicurious.com

4 Meyer lemons
4 Tablespoons sugar
4 Tablespoons water
Salt to taste

Make a simple syrup. To do th is, put the sugar and water into a sauce pan. Stir over medium-high heat until the sugar dissolves and the mixture begins to boil. Reduce the heat to low. Continue to cook and stir for an additional 2 – 3 minutes. Make sure all of the sugar is completely dissolved. Cool.

Rinse the lemons, slice them in half and remove all of the seeds that are visible. It's ok if a few seeds remain in the lemons if you can't get at them easily. Add the simple syrup and lemons to a blender and blend until you have a smooth sauce. Salt to taste. If you think the sauce is too thick, you can thin it by adding a bit of water.

Yield: Sauce for 4 – 5 servings of fish

Two years ago: Chocolate Covered Digestive Biscuits
Three years ago: Candied Bacon
Four years ago: Barley and Wild Rice Pilaf with Pomegranate Seeds
Five years ago: Crab Meat Gratin
Six years ago: No-Bake Chewy Granola Bars
Seven years ago: Spritz Cookies

Print This Recipe