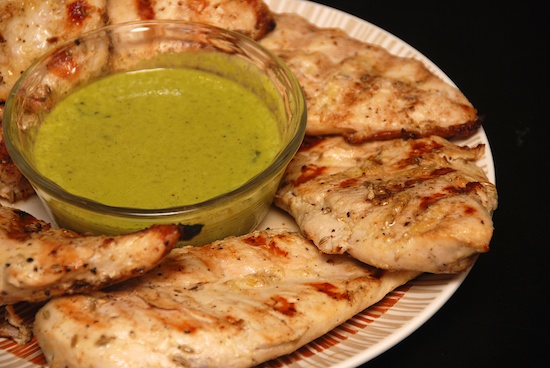 If you have basil at your disposal and you're looking for a quick and easy dinner, this recipe is for you.   It's as simple as throwing together a simple marinade in a ziploc bag and letting the chicken marinate for a while while you make the basil dressing in the food processor.   When you're ready to cook dinner, throw the chicken on the grill and you'll have a great entree ready in no time.
When I first looked at the recipe, I was not sure if I was going to spend $5.00 on a jar of fennel seeds because they smell like black licorice, and I don't really like the taste of licorice.   After reading some of the Food Network reviews of the recipe, I decided to splurge and give them a try.  I'm glad I did.    The fennel seeds gave a nice taste to the chicken, without making it taste like licorice.   They added some depth to the flavor of the marinade.
I've made this twice already this summer, and I'll certainly make it again before the summer is over.   Have I mentioned how much I love having the ability to grill outside?  It makes cooking dinner so easy.
Grilled Chicken with Basil Dressing
Recipe by Giada DeLaurentiis

2/3 cup extra-virgin olive oil
3 tablespoons plus 1/4 cup fresh lemon juice
1 1/2 teaspoons fennel seeds, coarsely crushed
1 1/2 teaspoons salt
1 teaspoon freshly ground black pepper
6 boneless skinless chicken breasts
1 cup lightly packed fresh basil leaves
1 large clove garlic
1 teaspoon grated lemon zest

Whisk 1/3 cup of oil, 3 tablespoons of lemon juice, fennel seeds, 3/4 teaspoon salt, and 1/2 teaspoon pepper in a heavy-duty re-sealable plastic bag. Add the chicken and seal the bag. Massage the marinade into the chicken. Refrigerate at least 30 minutes and up to 1 day, turning the chicken occasionally.

Meanwhile, blend the basil, garlic, lemon zest, remaining 1/4 cup lemon juice, 3/4 teaspoon salt, and 1/2 teaspoon pepper in a blender until smooth. Gradually blend in the remaining 1/3 cup oil. Season the basil sauce, to taste, with more salt and pepper if desired.

Prepare the barbecue for medium-high heat or preheat a grill pan over medium-high heat. Grill the chicken until just cooked through, about 5 minutes per side. Transfer the chicken to plates. Drizzle the basil sauce over the chicken and serve.

Yield: 4 servings

Print This Recipe