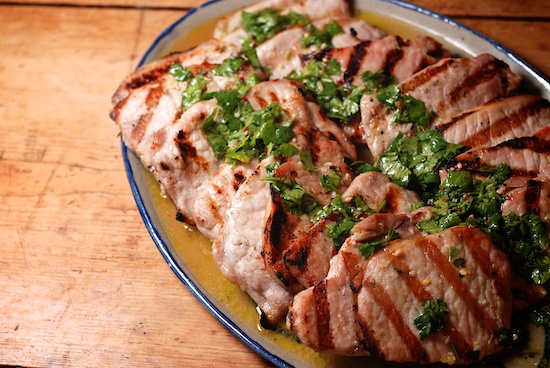 This has been one of my go-to barbeque recipes this summer. I can't tell you how many times I made these pork chops. Each time I had the scale the recipe up because I was serving a crowd, but they're perfect for a crowd because they cook so quickly and the sauce takes very little time to prepare.
This summer I learned a trick about thin, boneless pork chops. My mother never used to buy them because she felt that the meat was so lean that it would dry out by the time it was cooked. What's the secret? Brining! It's easy to do, and my pork chops were moist and delicious all summer long. I let the pork chops sit in the brine from anywhere between 2 and 8 hours (depending upon how organized I was), and they were all very moist. Don't let the idea of brining scare you. I was scared of it for years, but it's really not hard and it does make a huge difference – especially in boneless pork chops – and your pork chops don't end up salty either – just very tender.
If you're going to try this, don't forget to allow enough time to brine the chops. You won't regret it.
We head back to NYC tomorrow. This recipe was so good that I'm going to try it on my grill pan at home. I'll let you know how it turns out.
Grilled Pork Chops with Garlic Lime Sauce
Recipe adapted from Gourmet Magazine, July 2007
1/4 cup fresh lime juice
1 garlic clove, minced
1/4 teaspoon dried hot red-pepper flakes
1/3 cup olive oil
2 tablespoons chopped fresh cilantro
6 (1/2-inch-thick) boneless pork chops

3 Tablespoons sugar
3 Tablespoons kosher salt

Put 6 cups of water, 3 Tablespoons of sugar and 3 Tablespoons of kosher salt into a bowl of a baking dish. Stir to dissolve the salt and sugar for the brine. Place the pork chops in the brine. Cover and refrigerate for at least 2 hours, or if you're able, brine the chops overnight.

Once the pork chops are brined, whisk together lime juice, garlic, red-pepper flakes, and 1/4 teaspoon salt, then add oil in a slow stream, whisking well. Whisk in cilantro.

Prepare a gas grill for direct-heat cooking over medium-high heat. Pat pork dry and season with salt and pepper. Oil grill rack, then grill pork chops, covered, turning over once, until just cooked through, 5 to 6 minutes total. You may need to cook them for a few more minutes, depending upon the thickness of your chops.

Serve drizzled with some vinaigrette, and with remainder on the side.

Yield: 4 servings

One year ago: Roasted Red Peppers with Basil Oil
Two years ago: Mar-A-Lago Turkey Burgers
Three years ago: Chocolate Zucchini Cake

Print This Recipe