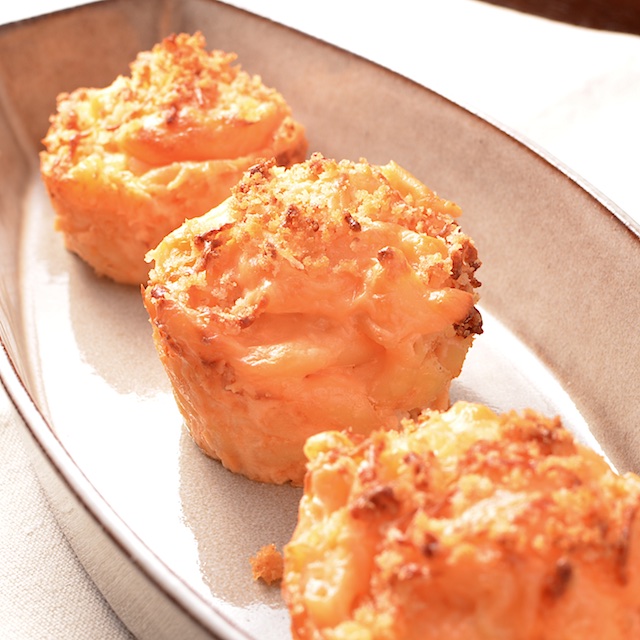 One of my sons is a huge dairy fan. He loves milk, yogurt and things made with cheese like macaroni and cheese, grilled cheese, cheese quesadillas, etc. He saw me looking at this recipe the other day and he begged me to make it. When I looked at the recipe I found that it was easier than traditional macaroni and cheese recipes because you don't need to make a roux. The cream cheese mixed with the milk, which is incredibly easy to do, replaces the roux.
These little mac and cheese "muffins" are great right out of the oven, and they're also great as leftovers. I was surprised how well they stayed together. I didn't have any trouble getting them out of the muffin pan. I had one for lunch today as a leftover and my son had three for dinner. This recipe is definitely a keeper and good enough to be added to our regular dinner rotation. My son, the one that requested that I make these, LOVED them. My husband and I did too. These would be great as an after-school snack. They reheat well in the microwave.
This basic recipe has infinite possibilities. I might add bacon next time. I think some broccoli would be a nice addition too. A little cayenne pepper would be nice too when I'm not making them for my son. You can add anything that you think goes well with mac and cheese.
Individual Mac and Cheese Cups
Recipe adapted slightly from Martha Stewart

1 tablespoon melted butter, plus more for greasing the muffin pan
1/4 cup Panko breadcrumbs
8 oz. grated cheddar cheese (2 cups)
Salt and pepper
8 ounces elbow macaroni
1 1/4 cups whole milk
8 ounces cream cheese, cut into cubes

Preheat oven to 350 degrees. Generously butter a 12-well muffin pan. In a small bowl, toss 1 tablespoon melted butter with breadcrumbs and 1/4 cup cheddar.

In a large pot of boiling salted water, cook macaroni until al dente, according to package directions; drain.

In a large saucepan over medium heat, bring milk to a simmer. Reduce heat to medium-low; add cream cheese and stir until melted. Gradually stir in remaining cheddar until melted. Add cooked pasta, 1/4 teaspoon salt, and 1/8 teaspoon pepper; toss to combine. Taste for seasoning.

Using a 1/2 cup ice cream scoop, divide the mixture into the 12 muffin wells. Using the ice cream scoop, the mixture should divide evenly into the muffin pan. Sprinkle the bread crumb mixture on top of each "muffin". Bake until bubbling, about 20 minutes. Remove from the oven; let sit for about 10 minutes before removing from the pan. You might need to run a knife around the outside of each "muffin" to loosen it from the pan.

Yield: 12 servings

Two years ago: Homemade Wheat Thins
Four years ago: Alsatian Pizza
Five years ago: Pear Salad with Raspberry Cream
Six years ago: Roasted Potato Leek Soup
Seven years ago: French Lentil Soup

Print This Recipe