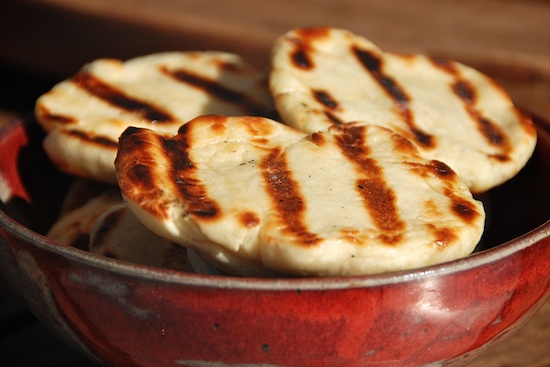 My boys love carbohydrates, and they LOVE naan.   They don't like any other Indian food, just the bread, but they do love the bread.    I made some just before we left Shelter Island because I had never made bread on the grill before;  it looked like fun.   Although this is a recipe that calls for yeast and I usually don't do well with yeast, this recipe worked perfectly.   The yeast got creamy as it was supposed to, and the dough rose nicely.
I didn't have bread flour, so I used all-purpose flour.   I think bread flour, with its higher gluten content, would make these even better.  That said,  I was happy with the results that I got.    The recipe calls for garlic, and I wasn't sure if the boys would like the garlic flavor in the bread so I only included garlic in half of the dough.    A couple of the boys preferred the naan plain.   I preferred it with  garlic.
The boys actually helped to make the naan.   The don't often have an interest in helping me cook, unless they're asked to put the sprinkles on cupcakes, but they found this interesting.   They helped divide the dough, make the little disks and put them on the grill.
I read a number of recipes before I chose this one.     Many of them talked about adding 1/2 teaspoon of baking soda which is supposed to yield more bubbles in the naan.   I think I'll try that next time to see if it works.
Naan
Recipe from allrecipes.com

1 (.25 ounce) package active dry yeast
1 cup warm water
1/4 cup white sugar
3 tablespoons milk
1 egg, beaten
2 teaspoons salt
4 1/2 cups bread flour
2 teaspoons minced garlic (optional)
1/4 cup butter, melted

In a large bowl, dissolve yeast in warm water. Let stand about 10 minutes, until frothy. Stir in sugar, milk, egg, salt, and enough flour to make a soft dough. Knead for 6 to 8 minutes on a lightly floured surface, or until smooth. Place dough in a well oiled bowl, cover with a damp cloth, and set aside to rise. Let it rise 1 hour, until the dough has doubled in volume.

Punch down dough, and knead in garlic. Pinch off small handfuls of dough about the size of a golf ball. Roll into balls, and place on a tray. Cover with a towel, and allow to rise until doubled in size, about 30 minutes.  During the second rising, preheat grill to high heat.

At grill side, roll one ball of dough out into a thin circle. Lightly oil grill. Place dough on grill, and cook for 2 to 3 minutes, or until puffy and lightly browned. Brush uncooked side with butter, and turn over. Brush cooked side with butter, and cook until browned, another 2 to 4 minutes. Remove from grill, and continue the process until all the naan has been prepared.

Yield:  16 – 18 pieces

Print This Recipe