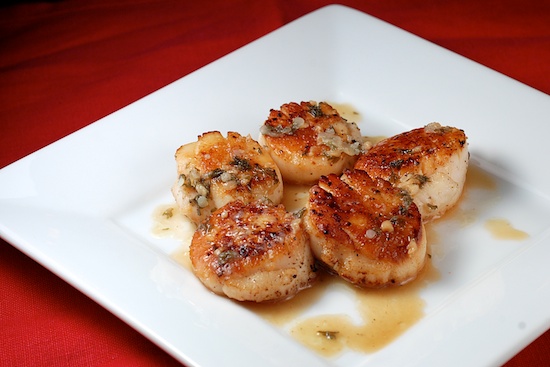 Ok, I'm just noticing that everything I've posted recently has been displayed on a red cloth. Time to change the color.
These scallops are a great weeknight meal because they're incredibly quick and easy to cook and the sauce is a breeze too. If you have a fish market that sells fresh "dry" scallops, this recipe is worth a shot. My husband and I gobbled them up.
I love the sauce because it's light and it's made with ingredients that I always tend to have on hand.  I really do love to cook scallops on weeknights because they make an elegant, very quick entree.  I also love their pretty shells!  This is now my go-to weeknight scallop recipe.
Pan-Seared Sea Scallops in White Wine Sauce
Recipe adapted from Foodbuzz.com

1 pound sea scallops
3-4 Tbsp Extra Virgin Olive Oil
salt
pepper
Sauce:
1/2 c white wine
1 tsp rice wine vinegar
1 tbsp unsalted butter
1 tsp dry parsley
2 garlic cloves (minced)

Pat the scallops dry with a paper towel and remove the tough cartilage on the side, if it has not already been removed. Season with salt and pepper.

Heat 2 – 3 tablespoons of olive oil over high heat and when the oil is hot, reduce the heat to medium high and sear the scallops for 3 – 4 minutes on one side, then flip them and cook them for 2 – 3 minutes on the other side until they're done. Don't crowd the scallops in the pan or they will steam instead of sear. If you need to, cook them in batches, adding more oil as necessary. Also, cook them undisturbed until they're ready to be flipped. Place the seared scallops on a plate covered with foil to keep them warm.

Wipe the skillet clean with a paper towel and reheat. Melt the butter and saute the garlic for roughly 30-45 sec. Then add the white wine and rice wine vinegar. Add the dry parsley. Let it simmer on medium to low heat for roughly 5-8 min. Stir occasionally. If you see the scallops release some of their juice onto the plate at it to the sauce.

Pour the sauce over the scallops and serve.

Yield: 4 servings