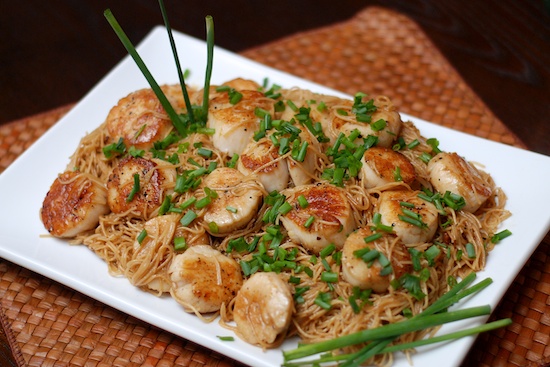 We have this great farmers market diagonally across the street from our apartment twice a week and on Saturdays a fisherman from the Hamptons comes in with fresh seafood.    His scallops are incredible.   In my book, there's nothing better than fresh scallops!   If you are buying your scallops in a fish market, make sure you ask if the scallops are 'dry'.    Two kinds of scallops are sold in fish markets:  wet and dry.   Wet scallops have been treated with phosphates.   The phosphates make the scallops absorb water.   They will appear to be nice and plump, but when you cook them, the excess water will evaporate and you'll end up with a tough scallop.   You will also have trouble browning them because of the excess water.   Dry scallops on the other hand, are not treated with any chemicals.   They are pulled from the ocean, shucked and sold to you.   They will brown very nicely in a pan. Don't ever forget to ask if the scallops you're buying are wet or dry, and if they're not dry, I recommend finding another fish market.
My cousin Danielle loves to cook as I do and she sent me this recipe last week. She and her husband love it. I tweaked the recipe a little bit, and the resulting dinner was delicious! I'll definitely make it again.
The recipe calls for chablis.   Chablis is a French wine that's very dry.   Unlike chardonnay, it doesn't taste of oak, nor is it fruity.   Chablis wine has been described as tasting flinty or steely.   Anyway, I didn't have any chablis on hand, so I used the driest white wine I had and it worked just fine.
Sauteed Scallops with Chablis Cream Sauce
Adapted from recipe on Saveur.com

12 large sea scallops
1/2 small sweet onion, such as vidalia or maui, peeled and thinly sliced
1 sprig tarragon
1 1/2 tsp. extra-virgin olive oil
Salt and freshly ground black pepper
1/2 bunch chives
1 1/2 cups French chablis
1/2 lb. fresh or dried angel hair pasta
1/2 cup heavy cream
1 tbsp. butter
1 lemon, zested and juiced

Bring a large pot of cold water to a boil over high heat.  Meanwhile, pull off scallops' connective muscle (the opaque white flap attached to side of scallop).  Rinse the scallops and dry thoroughly.

Add onions, tarragon, 1 tsp. of the oil, and salt and pepper to taste to a saucepan. Cut off 2″ from base end of chives and add to saucepan. Finely chop the remaining chives and set aside. Put saucepan over medium heat and cook mixture until onions begin to soften, about 5 minutes. Add wine and bring to a boil. Reduce heat to low and gently simmer until onions are soft, about 10 minutes. Add 2 generous pinches salt to the boiling water, add pasta, and cook, stirring frequently, until just tender, 1–5 minutes, depending on type of pasta. Drain pasta and set aside.

Heat a large cast-iron or other heavy skillet over medium-high heat. Season scallops to taste with salt and pepper. Add the remaining 1/2 tsp. oil to skillet, then add scallops and sear each side until golden brown, about 2 minutes per side. Transfer scallops to a warm plate, loosely cover with foil, and set aside.

Return skillet to medium-high heat. Strain wine and onion mixture into skillet, discarding solids, and cook, scraping browned bits stuck to bottom of skillet with a wooden spoon, for 1–2 minutes. Add pasta, cream, butter, and lemon zest and half of the lemon juice (or to taste); season to taste with salt and pepper and cook, stirring and tossing pasta in sauce, until sauce has thickened and been absorbed by pasta, 1-2 minutes.

Arrange 3 scallops on each of 4 warm plates, then divide pasta between plates and garnish with chopped chives.

Yield:  4 servings

One year ago: Chicken with Balsamic Barbeque Sauce
Two years ago: Tuna Salad with Cranberries

Print This Recipe