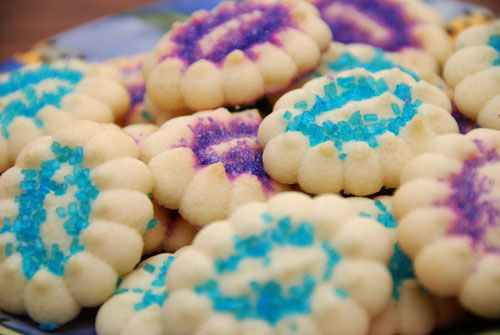 When I was growing up, my mother always made spritz cookies before Christmas.   The cookies were colored red and green and I had a lot of fun decorating them with colored sugar.    You knew it was Christmas when the cookie press came out.
I typically make spritz cookies before Christmas too, but this year the season got away from me.   I'm only now making my spritz cookies (and we're only now finishing up our Christmas card as well, which has turned into a New Year's card…)   The nice thing about the cookie press is that it comes with a lot of shapes – Christmas trees, wreaths, etc. for Christmas and some more generic shapes for the rest of the year.
My sons love to help decorate cookies, and these are very easy to decorate by sprinkling a little colored sugar on them.   If you're baking these around the holidays, 2 drops of green food coloring will make a nice green dough for Christmas trees.
These cookies take no time at all to make as it's just point and shoot with the cookie press.   If you don't have a cookie press and you like to make cookies, I highly recommend that you get one.
Spritz Cookies
Recipe by Carole Hess

2 sticks of butter, softened
3/4 cup sugar
1 egg
2 1/4 cups flour
1/4 teaspoon baking powder
1 teaspoon almond extract

Preheat oven to 350 degrees F.

Using a stand mixer with a paddle attachment, cream the sugar and the butter until light and fluffy.  Add the egg and almond extracts and mix to incorporate. Sift together the baking powder and the flour. Add the flour mixture. Mix until combined. Using a cookie press, press cookies onto ungreased cookie sheets. Top with the sprinkles of your choice. Bake for 5 to 8 minutes, or until firm, but not yet browning.

Yield:  Approximately 4 dozen cookies

Print This Recipe