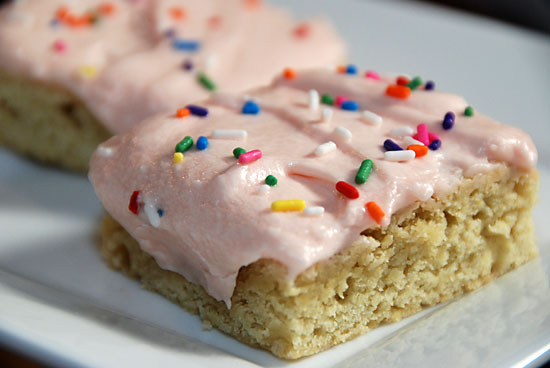 Last night our school had a movie night and parents were asked to bring baked goods.   I'm always looking for an excuse to try a new recipe, and last night's event was a perfect one.   I found this recipe on a blog called One Ordinary Day, which I really enjoy reading.   It can also be found on a number of other blogs.  The recipe seems to be making the rounds these days.
This recipe makes a LOT of cookies – in fact a whole jelly roll pan's worth.  I was able to bring quite a few to school and have some left over for the boys.   I'm actually glad that we only had a few left at home because I personally ate most of them, and probably would have eaten more if they were around.   I'm actually finishing the last one as I write this.
I was told that everyone who tried them at school loved them, and the same held true for everyone in this house.  They're quite sweet, but if that's what you're in the mood for, these definitely fit the bill.   Another thing I like about the recipe is that it's very quick and easy to make.  I'll definitely make these cookies again.
Sugar Cookie Bars
Recipe from One Ordinary Day

1 c. unsalted butter, room temperature
2 c. granulated sugar
4 eggs
2 tsp. vanilla
5 c. all-purpose flour
1 tsp. salt
1/2 tsp. baking soda

Cream butter and sugar until fluffy.  Add eggs, one at a time, mixing after each addition.  Add vanilla and mix well.  In a separate bowl, combine flour, salt, and baking soda; stir with a whisk to combine.  Add dry ingredients to wet ingredients and mix until just combined.  Spread into a greased baking sheet (approx. 13×18? – a jelly roll pan).  Bake at 375 degrees for 10-15 minutes, or until golden and a toothpick inserted in the center comes out mostly clean.  Cool completely and frost with your favorite buttercream icing.

Magnolia's Vanilla Buttercream Icing
Recipe from More From Magnolia

1 cup (2 sticks) unsalted butter, softened
6 to 8 cups confectioners' sugar
1/2 cup milk
2 teaspoons vanilla extract

Place the butter in a large mixing bowl. Add 4 cups of the sugar and then the milk and vanilla. On the medium speed of an electric mixer, beat until smooth and creamy, about 3-5 minutes. Gradually add the remaining sugar, 1 cup at a time, beating well after each addition (about 2 minutes), until the icing is thick enough to be of good spreading consistency. You may not need to add all of the sugar. If desired, add a few drops of food coloring and mix thoroughly. (Use and store the icing at room temperature because icing will set if chilled.) Icing can be stored in an airtight container for up to 3 days.

Yield:  ~54 bars (2″ x 2″)

Print This Recipe