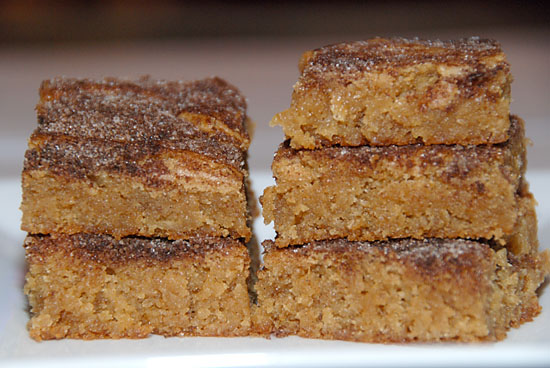 Three of our sons had publishing parties at school this week and they both asked me to make my traditional crumb cake.   Everyone loves it, especially the boys. Typically there isn't any left when I bring one to school, but there were several pieces left from one class so we brought them home. The boys were looking forward to having the leftover cake for breakfast.
My husband makes the boys' lunches every day, and he usually makes them the night before. As he was packing up their lunches the other night, he mentioned that he was going to give them each a piece of crumb cake for dessert. I didn't want the boys to be disappointed in the morning, so I decided to throw something together for their lunchboxes. I've eyed this recipe on a couple of blogs like One Ordinary Day and Dozen Flours so I decided to try it and I'm so glad I did.
I wanted something that was really easy to make (check) that didn't take too long to cook (check), that I knew the boys would love (check!)   In this recipe, you don't even have to cream the butter and suger – I dumped the butter, sugar, eggs and vanilla into my KitchenAid mixer and let it run. I then dumped the flour, salt and baking powder in and had it mix until there were no traces of flour left. Making the batter took all of 5 minutes or so.
I have eaten two of these already tonight, and my husband has had at least that many. These are GREAT! If you love snickerdoodles like I do, you must try this recipe.  In between munching on the snickerdoodle blondies I was dialing American Idol.   I love the show, but I typically never vote.   I feel so strongly about Adam that I tried to vote many, many times.   Only three or four calls got through, the rest of the time the line was busy.  He deserves to win!


Snickerdoodle Blondies
Recipe from Dozen Flours


2 2/3 cups all-purpose flour
2 teaspoons baking powder
1 teaspoon Kosher salt
2 cups packed brown sugar
1 cup butter, at room temperature
2 eggs, at room temperature
1 tablespoon vanilla extract
1/2 teaspoon cinnamon

2 tablespoons white sugar
2 teaspoons cinnamon

Preheat oven to 350F. Lightly grease a 9 x 13 inch pan.

Sift together flour, baking powder, 1/2 teaspoon of cinnamon and salt and set aside. In large bowl, beat together butter, sugar, eggs and vanilla until smooth.

Stir in the flour mixture until well blended. Spread evenly in prepared pan (mixture will be somewhat cookie batter-ish.) Combine white sugar and 2 teaspoons cinnamon in a little bowl. Evenly sprinkle cinnamon sugar mixture over the top of the batter.

Bake 25-30 minutes. Make sure a toothpick comes out clean. You don't want to overcook these. Cool and cut into bars with a sharp knife.

Yield: ~28 bars

Print This Recipe