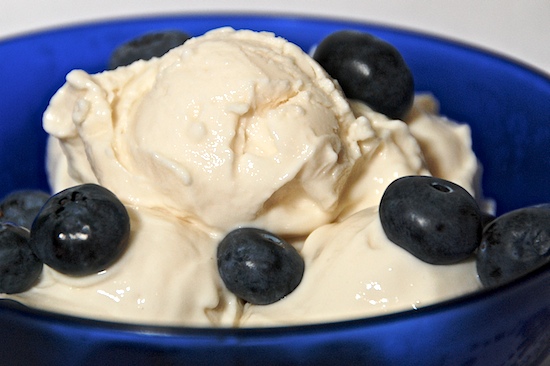 Ok, this recipe is similar to Mark Bittman's sorbet in that it only has a few ingredients, it's incredibly easy, and once you try it you'll never want to buy another pint of frozen yogurt again. You might not even want to go to Pinkberry anymore. Serve this to company, but don't tell them how easy it is to make. You really must try this.
Using Greek yogurt makes this frozen yogurt incredibly rich and creamy. Greek yogurt is yogurt that has been strained to remove the whey. As a result, the consistency is quite thick – almost like a soft cheese. It's also much higher in protein than regular American yogurt.
You really can't imagine how good this is. I just ate my second bowl and I only made the frozen yogurt about 20 minutes ago. My last bowl had fresh strawberries on top. Yum! This is one of those things that I can keep eating until I make myself sick.
I used Fage 2% yogurt for this recipe. My husband and I just had 2 bowls each. I'm going to buy some more yogurt tomorrow so I can make it again. I can't wait to see if the boys like it.
This frozen yogurt does not keep well.  It's best eaten immediately after it's made. I put the leftover yogurt in the freezer overnight and it was hard as a rock and almost impossible to scoop the next day, so I recommend only making as much as you think you and/or your guests can eat in a single sitting. It's an easy recipe to scale down.
The original recipe mentions that you can use whole-milk yogurt in lieu of the greek-style yogurt.   I'm going to try that next.   I think it too will be delicious, just not quite as rich.  The original recipe also calls for 1 cup of sugar, but I used 3/4 cup and thought it was plenty sweet.
Vanilla Frozen Yogurt
Adapted from The Perfect Scoop by David Lebovitz

3 cups Greek-style yogurt
3/4 cup sugar
1 teaspoon vanilla extract

Mix together the yogurt, sugar, and vanilla.   Stir until the sugar is completely dissolved. Refrigerate 1 hour.

Freeze in your ice cream maker according to the manufacturer's instructions.    It's that simple!

Yield:  ~ 1 quart

Print This Recipe