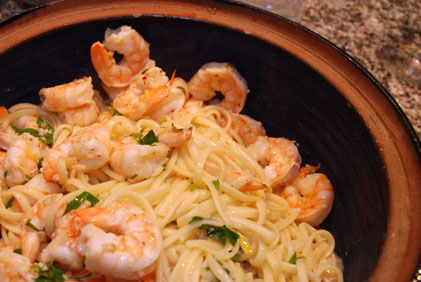 Last Sunday, my brother participated in the New York City Triathlon. It was an amazing event to watch. His swim leg began at 6:08am and he had his fastest swim time ever because of the current in the Hudson River. Thank goodness the swim was fast because the river is home to many stinging jellyfish that were a nuisance for the athletes. My brother wore a wetsuit so he was only stung on his face.
My brother ran an amazing race and finished around the time I usually get up on a Sunday morning. I'm glad he started early because it was really hot and humid.  I felt for the athletes that started in later waves.
Watching my brother race is very inspiring for me. It makes me want to try a triathlon myself, or at least to start running again. When my brother competed in an Ironman Triathlon a number of years ago, it inspired me to train for and run a marathon. I haven't run in years (since the boys were born), but I'm now inspired to take it up again and I have my sights set on a 5K in the fall.
The night before the race, we planned a big family dinner and I was looking for a delicious pasta dish to feed to a crowd. I figured my brother needed to carbo-load.  Loving Ina Garten, I knew this shrimp pasta dish was just the thing to make as soon as I saw it. One of the things that I love to do is try new recipes on my guests. Most of the time it's a successful endeavor, but occasionally it's not. This time it was a huge success. While searching for a recipe, I saw a couple of delicious pastas with vodka sauce, but they all had cream as an ingredient, and with a couple of lactose intolerant guests, I knew vodka sauces weren't in the cards.
This dinner can be thrown together very quickly, which is important to me because inevitably I think I can have dinner on the table for guests at a normal hour, while getting four young boys to bed at the same time. I'm known for serving the "midnight buffet" as it's affectionately called, when dinner goes on the table much later than expected. With a recipe like this, the chances are much higher that the dinner will be served on time.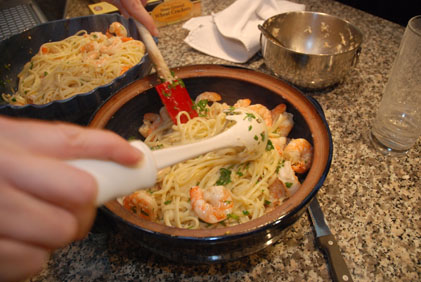 This pasta dish doesn't have a lot of sauce on it, but it's not needed because it's so flavorful. The lemon juice (and I recommend that you squeeze lemons as opposed to using juice from a bottle) gives the pasta a bright fresh flavor. I hope you like it as much as I do. Serve it with a nice green salad and some crusty bread and you're all set.

Linguine with Shrimp Scampi
Adapted from Barefoot Contessa Family Style by Ina Garten

Vegetable oil
1 tablespoon kosher salt plus 1 1/2 teaspoons
1/2 pound linguine
3 tablespoons unsalted butter
2 1/2 tablespoons good olive oil
1 1/2 tablespoons minced garlic (4 cloves)
1 pound large shrimp (about 16 shrimp), peeled and deveined
1/4 teaspoon freshly ground black pepper
1/3 cup chopped fresh parsley leaves
1/2 lemon, zest grated
1/4 cup freshly squeezed lemon juice (2 lemons)
1/4 lemon, thinly sliced in half-rounds
1/8 teaspoon hot red pepper flakes

Drizzle some oil in a large pot of boiling salted water, add 1 tablespoon of salt and the linguine, and cook for 7 to 10 minutes, or according to the directions on the package.Meanwhile, in another large (12-inch), heavy-bottomed pan, melt the butter and olive oil over medium-low heat. Add the garlic. Saute for 1 minute. Be careful, the garlic burns easily! Add the shrimp, 1 1/2 teaspoons of salt, and the pepper and saute until the shrimp have just turned pink, about 5 minutes, stirring often. Remove from the heat, add the parsley, lemon zest, lemon juice, lemon slices, and red pepper flakes. Toss to combine.

When the pasta is done, drain the cooked linguine and then put it back in the pot. Immediately add the shrimp and sauce, toss well, and serve.

Serves 3