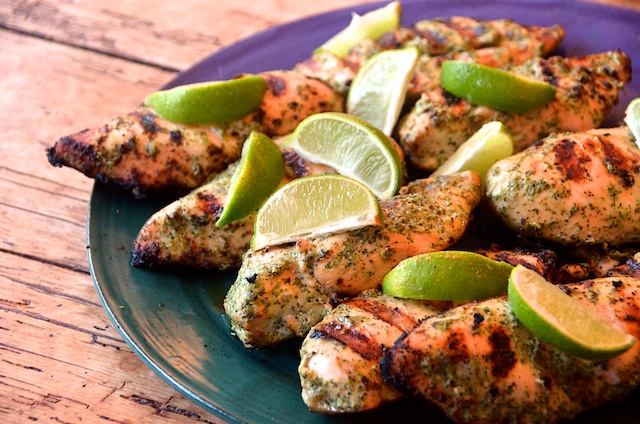 This is now one of my go-to summer chicken recipes. I have made it numerous times and each time I didn't let the chicken marinate for nearly as long as I should have. Despite my blunder, the chicken was incredibly moist and flavorful each time. There's something about letting boneless chicken breasts sit in coconut milk that makes them delicious. Add some herbs and seasoning and they get even better.
My dad is not a huge chicken breast fan, and he really enjoyed this. This is a great recipe to serve to a crowd. Next time I make this, I'm going to get my act together and marinate the chicken the night before. I can only imagine how good it will be then.
If you don't finish the chicken immediately, it makes a great lunch the next day. You can serve it cold over a green salad. Yum!
Thai Herb Grilled Chicken Breasts
Recipe from The Yummy Life, who modified it from Fine Cooking

6-8 boneless, skinless chicken breast halves
1 1/2 cups chopped fresh cilantro (leaves and tender stems)
3/4 cup canned coconut milk
12 fresh basil leaves
1 large or 2 small jalapenos, stem, seeds and membrane removed
3 garlic cloves
2 slices fresh ginger, peeled (approximately 1/8″ thick)
1 1/2 Tablespoons kosher salt
1 1/2 teaspoons freshly ground black pepper
3/4 teaspoons ground coriander
2 teaspoons packed brown sugar
2 limes, cut into wedges

Add marinade ingredients to blender or food processor; puree until smooth. The sauce will be fairly thin. Arrange chicken breasts in single layer in a large baking dish. Pour marinade over the chicken. Flip chicken a few times until completely coated with marinade. Cover and refrigerate for at least 2 hours and up to 24 hours (the longer the better).

When ready to grill, coat hot grill grate with oil, using tongs and a paper towel dipped in oil. Place chicken on medium-hot grill, discarding the marinade. Turn when chicken has grill marks and releases easily from grill (approximately 5-6 minutes). Cook until internal temperature is 160 degrees at thickest part using an instant-read thermometer, approximately 7-8 additional minutes. Grilling time may vary depending upon the thickness of the chicken. Let the chicken rest for at least 5 minutes prior to serving. Serve with lime wedges.

Yield: 6 – 8 servings

One year ago: Pinto Bean and Quinoa Sloppy Joes
Two years ago: Pea Pesto Crostini
Three years ago: Zucchini and Ricotta Tart
Four years ago: New Potato Salad
Five years ago: Crispy Kale Chips

Print This Recipe