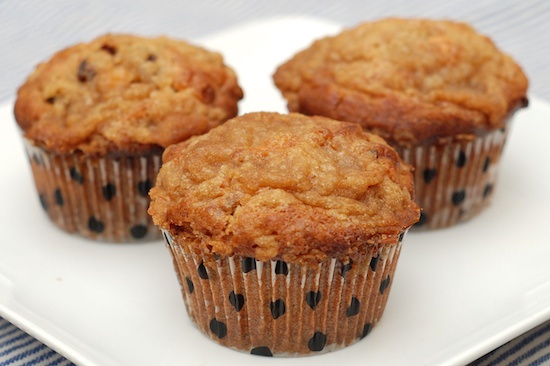 I must get a better picture of these muffins because based on the picture, you might not want to make them, but you really should.  These are incredibly delicious.  They're one of the best tasting muffins I've made in a long time.   There's something about the combination of bananas, white chocolate chips and tart cherries that's really incredible. If you try these, I must warn you that they're sweet. Delicious, but sweet.
I found this recipe on the blog Pinch My Salt which I have really been enjoying recently.
My muffins aren't as pretty as they could be because I had some difficulty with the crumbs. I've never made crumbs with my hands before, I usually make crumbs in my food processor. When I was mixing the butter/sugar/flour together with my fingers, I did two things wrong. I didn't cut the butter into small enough pieces and I definitely over mixed the whole thing, so my crumbs went beyond the crumbly stage and ended up being more of a paste. They still tasted good, but they just didn't look as good as they could have. Next time I'll try to use my mini food processor for the crumbs.
You should try these muffins. As my husband says, "They rock my world."
Cherry Banana Muffins with White Chocolate Chips
Recipe from Pinch My Salt

Streusel Topping:
1/3 cup lightly packed brown sugar
2 tablespoons all purpose flour
2 tablespoons butter, cut into small pieces

Muffins:
1 3/4 cup flour
1 teaspoon baking powder
1/4 teaspoon baking soda
1/2 teaspoon salt
1 egg
1/2 cup canola oil
3/4 cup sugar
1 teaspoon vanilla extract
3 ripe bananas, mashed
1 cup white chocolate chips
1/2 cup chopped dried tart cherries

Place rack in middle of oven and preheat to 375 degrees.  Grease a standard 12-cup muffin tin or line with paper cups.

Make streusel topping:  In a small bowl, blend together brown sugar and flour.  Blend butter into the sugar mixture with your fingertips until it has a sandy, crumb-like texture.  You can also try to use a mini food processor to make the crumbs. Set aside.

In a large bowl, whisk together flour, baking powder, baking soda, and salt until well combined.  Set aside.  In a separate bowl, whisk together egg, oil, sugar and vanilla; stir in mashed banana.

Pour banana mixture into the flour mixture and stir with a large spoon until just combined.  Don't overmix, but make sure all the flour has been scraped off the bottom of the bowl and mixed in.  Fold in white chocolate chips and cherries.

Divide batter evenly between the 12 muffin cups.  Sprinkle streusel mixture over the muffin batter, letting it mound slightly in the center of each muffin.

Bake in preheated 375 degree oven for 21-23 minutes, or until a toothpick inserted in the center of a muffin comes out clean.  Let muffins cool slightly in pan then remove to a wire rack to cool completely.

Yield:  12 delicious muffins

One year ago: Jacques' Chocolate Mudslide Cookies
Two years ago: Whole Wheat Cinnamon Oatmeal Chocolate Chip Cookies

Print This Recipe