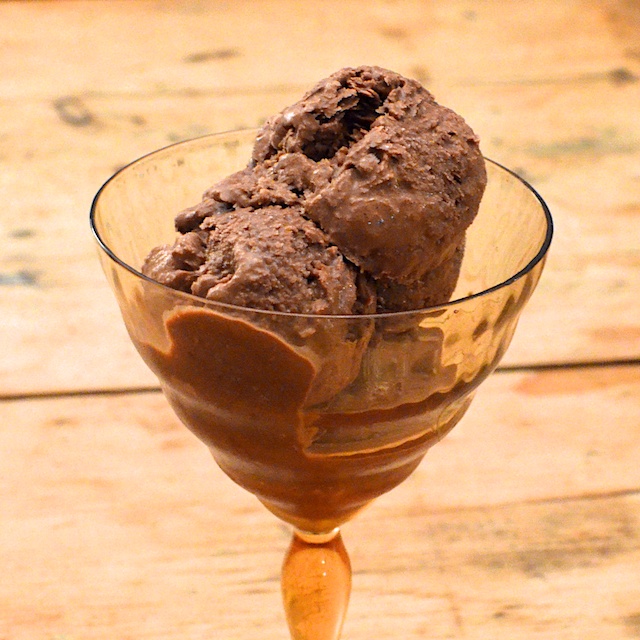 A girlfriend came to visit us on Shelter Island this summer and she has a dairy allergy. I enjoy making ice cream in the summer, but knew she couldn't have any, so I searched for some kind of frozen treat that she could eat.
I love this recipe because it only has four ingredients and you also don't need an ice cream maker to make it. You simply whip up the ingredients in a blender and pour them into a container to freeze. You should taste the mixture before you freeze it to see if you like the taste. You can play with the ingredients – you can add more honey, more vanilla extract, more cocoa, etc., depending upon how you like it.
Although dairy free, this ice cream is delicious. It's rich, creamy and chocolatey and oh so easy to make. If you find that it's too hard to scoop right out of the freezer, let it sit on the counter for 10 minutes or so and it should become easier to scoop.
I'm sorry to say that we devoured it before my girlfriend had a chance to try it.   I'll have to make it again next time she visits.
Chocolate Coconut Milk Ice Cream
Recipe from Detoxinista

1 14 oz. can full-fat coconut milk
1/4 cup + 2 Tablespoons cocoa powder
1/4 cup honey
1 teaspoon vanilla extract

Combine all of the ingredients in a blender, and blend until smooth and creamy.

Adjust the flavor to your taste, then transfer to a freezer-safe container. Place in the freezer for 4-6 hours, or until firm.

If your ice cream gets too firm in the freezer, allow it to thaw at room temperature for 15-20 minutes before serving.

Yield: 4 servings

One year ago: Homemade Halloween Oreos
Two years ago: Creamy Curried Celery Root Soup
Three years ago: Mini Nutella Cakes
Four years ago: French Toast
Five years ago:  Quick Oat Bran and Banana Muffins


Print This Recipe