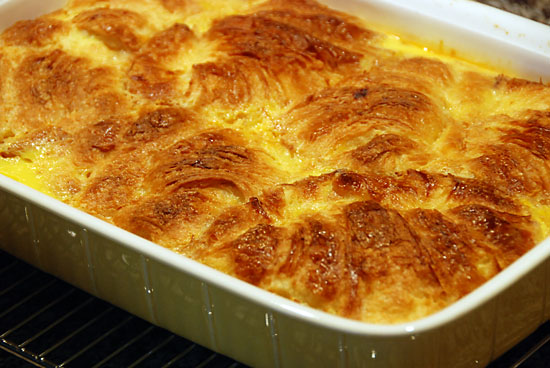 I didn't think I liked bread pudding until I had this one.   Actually I know I didn't like it.   This one changed my mind forever.   This is an incredible dessert, although in a way it's tempting to serve for breakfast.   It is loaded with croissants!
My friend Nancy who is an amazing cook, brought this for dessert one night and it was so good I was dying to try it –  I just needed an excuse to make it.   Well that excuse came last weekend when our book club met.   I was responsible for dessert and I made this.   Everyone loved it!   I served it with rum whipped cream which was a nice addition.   We probably ate 2/3 of the dessert at the book club meeting, and when I was packing up to go home, I asked the hosts if they'd like to keep the remaining dessert and I received a resounding,'YES'!  In my book, that's the sign of a good dessert.
In an ideal world, the croissants that you use in this recipe should be a bit stale.    I bought fresh croissants the morning that I made this, and I didn't find the fresh croissants detrimental to the recipe at all.   I made one other change to the recipe.   I don't like raisins (or mushrooms, goat cheese or blue cheese for that matter), so I replaced them with white chocolate chips.   Yum!
If you're looking for a rich dessert that isn't chocolate, this is it!
One thing to note about this recipe is that it takes a long time to cook.   It's in the oven for an hour and a half, so make sure you start the bread pudding way before you plan to serve it.   Enjoy, and please let me know if you try it.   I'd love to hear what you think.
Croissant Bread Pudding
From The Barefoot Contessa Cookbook by Ina Garten

3 extra-large whole eggs
8 extra-large egg yolks
5 cups half-and-half
1 1/2 cups sugar
1 1/2 teaspoons pure vanilla extract
6 croissants, preferably stale, sliced horizontally
1 cup raisins (optional) (Diane's note – I replaced the raisins with white chocolate chips)

Preheat the oven to 350 degrees F.

In a medium bowl, whisk together the whole eggs, egg yolks, half-and-half, sugar, and vanilla. Set the custard mixture aside. Slice the croissants in half horizontally. In a 10 by 15 by 2 1/2-inch oval baking dish (Diane's note – I don't have an oval baking dish, so I used an 11″ x 13″ baking dish and it worked fine), distribute the bottoms of the sliced croissants, then add the raisins (or white chocolate chips), then the tops of the croissants (brown side up), being sure the raisins (or white chocolate chips) are between the layers of croissants or they will burn while baking. Pour the custard over the croissants and allow to soak for 10 minutes, pressing down gently.

Place the pan in a larger one filled with 1-inch of hot water. Cover the larger pan with aluminum foil, tenting the foil so it doesn't touch the pudding. Cut a few holes in the foil to allow steam to escape. Bake for 45 minutes. Uncover and bake for 40 to 45 more minutes or until the pudding puffs up and the custard is set. Remove from the oven and cool slightly. Serve warm or at room temperature.

Yield: 8 – 10 servings

Print This Recipe